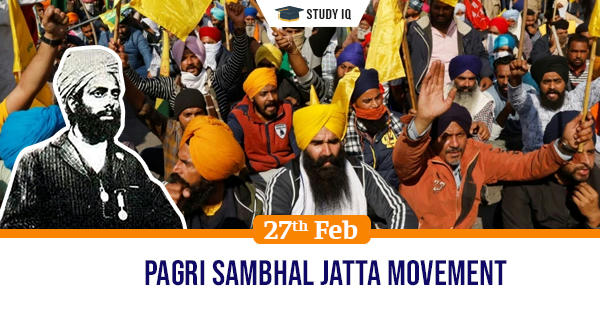 Pagri Sambhal Jatta movement
Date: 27 February 2021
Tags: Bills & Laws
Issue
A 1907 ballad of defiance has made a quiet comeback to inspire protesting Punjab farmers at Delhi borders.
Background
The tales of that unrest led by Bhagat Singh's uncle, Ajit Singh, continue to inspire the current protesters who refuse to budge in their fight against the Union government.
Details
'Pagri Sambhal Jatta', a song by Banke Dayal, the editor of Jhang Sayal, was introduced at a peasants rally in Lyallpur that year.

It soon became an anthem that defined the farmers' agitation against three British laws – the Doab Bari Act, Punjab Land Colonisation Act and the Punjab Land Alienation Act.
History
Farmers, especially in and around district Lyallpur (now in west Punjab), who were given forest land by the British to develop were being told that the government will take back the allotted land under the Act.

Bhagat Singh's father Kishan Singh, uncle Ajit Singh and their revolutionary friend Ghasita Ram had formed Bharat Mata Society with an ultimate aim to spark a revolt against British government.

Activists back in 1907 had decided to first read the bills thoroughly before protesting. Farmer activists would organise meetings at different centres in Lahore from morning till evening.

The activists were then sent to Lyallpur district to explain to the public the harm these measures would do to them.

Another interesting parallel is that British had made minor amendment in the laws after seeing the resentment in public.

There were riots in Rawalpindi, Gujranwala, Lahore etc. British personnel were manhandled, mud was flung at them, offices and churches were burnt, telegraph poles and wires cut.

That increase in land revenue was not the cause of this unrest. It was with a view to finishing British rule in India. The result of all this agitation was that all the three bills were cancelled.