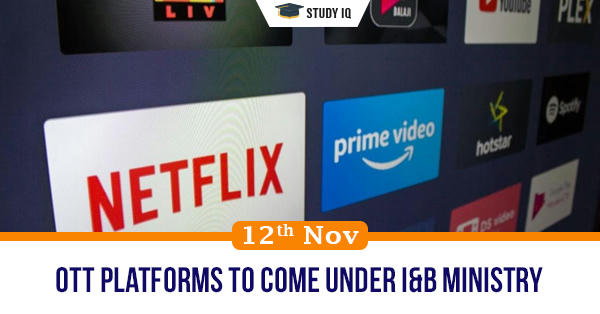 OTT platforms to come under I&B ministry
Date: 12 November 2020
Tags: Bills & Laws
Issue
The government has brought video streaming over-the-top (OTT) platforms such as Netflix, Amazon's Prime Video, Hotstar, and others under the ambit of the Ministry of Information and Broadcasting.
Background
With a market size of nearly Rs 500 crore, the online video streaming platforms may become Rs 4000-crore revenue market by the end of 2025. At the end of 2019, India had as many as 17 crore OTT platform users.
Details
OTT platforms
OTT, or over-the-top platforms, are audio and video hosting and streaming services which started out as content hosting platforms, but soon branched out into the production and release of short movies, feature films, documentaries, and web-series themselves.

These platforms offer a range of content and use artificial intelligence to suggest users the content they are likely to view based on their past viewership on the platform.

Most OTT platforms generally offer some content for free and charge a monthly subscription fee for premium content which is generally unavailable elsewhere.

The premium content is usually produced and marketed by the OTT platform themselves, in association with established production houses which historically have made feature films.
Current situation
So far in India, there are no laws or rules regulating OTT platforms as it is a relatively new medium of entertainment.

OTT platforms had little to no regulation on the choice of content they offered, the subscription rates, certification for adult movies, and others.

The central government's move to bring the OTT platforms under the I&B Ministry could also mean that these platforms would have to apply for certification and approval of the content they wish to stream.

This in itself could give rise to many conflicts as most OTT platforms have content that could otherwise be censored by the certification boards in India.

OTT platforms are likely to resist any plans to censor the content being provided and streamed by them as these platforms have often chosen to produce movies and documentaries on politically sensitive but relevant topics.