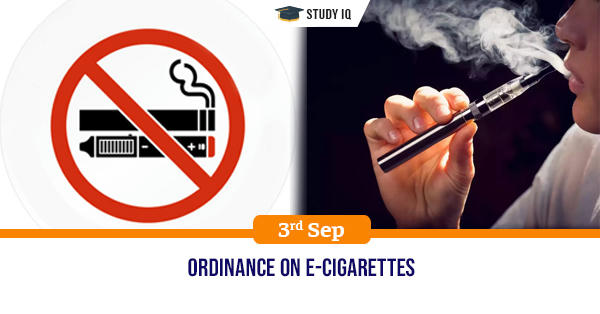 Ordinance on e-cigarettes
Date: 03 September 2019
Tags: Bills & Laws
Issue
The government had come up with a draft ordinance seeking to ban the production, import, distribution and sale of electronic cigarettes and proposing jail term of one year for violators.
Background
Concerns have spiralled after the deaths of two youths in the US who were addicted to vaping. Vaping is defined as the action of inhaling and exhaling the vapour produced by an electronic cigarette or similar devices such as hookahs.
Details
Electronic cigarettes or e-cigarettes pose health risks to users, contrary to the perception that they are a healthier alternative to nicotine cigarettes.

E-cigarettes do not fall within the scope of existing national legislation on tobacco production, distribution, and use, yet pose significant health risks that are similar to those of conventional cigarettes.

Studies have found that the percentage of students who initiate the use of e-cigarettes and hookah smoking before 10 years of age has increased from 26 per cent to 45 per cent in the last 15 years.
E-cigarettes
These devices do not burn tobacco leaves, but use a heating element to turn a liquid nicotine solution into vapours, which the user inhales. Chemicals used in e-cigarettes as solvents are hazardous and could prove fatal.

Pure nicotine, which is the main ingredient of e-cigarettes and its chemicals derivatives in extracted chemical form are highly addictive and poisonous and have a potential to cause death even in small quantities.
Regulation of electronic cigarette
Regulation of electronic cigarettes varies across countries and states, ranging from no regulation to banning them entirely. For instance, e-cigarettes are illegal in Japan, forcing the market to use heat-not-burn tobacco products for cigarette alternatives.

E-cigarettes containing nicotine have been listed as drug delivery devices in a number of countries, and the marketing of such products has been restricted or put on hold until safety and efficacy clinical trials are conclusive.
Sitharaman panel for ordinance against e-cigarettes
A panel led by Finance Minister Nirmala Sitharaman will study a health ministry proposal to ban the sale of electronic cigarettes through an ordinance.

The panel includes ministers from commerce, health, agriculture, chemicals and petrochemicals, and food processing departments.

The government believes that an ordinance could be a strong deterrent but it will not be of much use until it has provisions for a total ban.