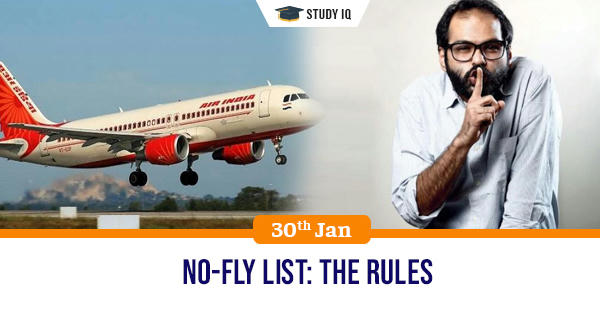 No-fly list: The rules
Date: 30 January 2020
Tags: Bills & Laws
Issue
Four airlines in India, IndiGo, SpiceJet, Air India and GoAir, have banned stand-up comedian Kunal Kamra from taking their flights after he allegedly heckled television news anchor Arnab Goswami on an IndiGo flight.
Background
In 2017, the government issued rules for preventing disruptive behaviour by air travellers and laid down guidelines for a no-fly list.
Details
As per the rules, a complaint of unruly behaviour needs to be filed by the pilot-in-command, and this is to be probed by an internal committee to be set up by the airline.

During the period of pendency of the inquiry, the rules empower the concerned airline to impose a ban on the passenger. The committee is to decide the matter within 30 days, and also specify the ban duration.

The internal committee shall give the final decision in 30 days by giving the reasons in writing, the rules state, and the decision of the committee shall be binding on the airline concerned. In case the committee fails to take a decision in 30 days, the passenger will be free to fly.

Any aggrieved person, upon receipt of communication of a ban from the airline, may appeal within 60 days from the date of issue of the order, to an Appellate Committee constituted by the Ministry of Civil Aviation.

The Civil Aviation Requirements state that the decision of the appellate committee shall be final and that any further appeal shall lie in a High Court.

If a person has been put on the no-fly list of domestic airlines, there is still a possibility that she can take international flights since the DGCA requirement applies only for Indian airlines.
The Rules
The rules define three categories of unruly behaviour:
Level 1 refers to behaviour that is verbally unruly, and calls for debarment up to three months.

Level 2 indicates physical unruliness and can lead to the passenger being debarred from flying for up to six months.

Level 3 indicates life-threatening behaviour for which the debarment would be for a minimum of two years.
Grounds on imposing ban
A no-fly list essentially begins with a passenger causing verbal, physical or life-threatening unruliness. The DGCA has given an indicative list of actions that may be construed as unruly.

These include: consuming alcohol or drugs resulting in unruly behaviour, smoking in an aircraft, using threatening or abusive language towards a member of the crew or other passengers, intentionally interfering with the performance of the duties of a crew member etc.

Once the pilot-in-command submits his complaint, the airline is bound to refer the complaint to its internal committee.
Need for no-fly list
The Civil Aviation Requirements issued by the Directorate General of Civil Aviation (DGCA) note that unruly behaviour on board aircraft has been declared an offence and is a punishable act. Even one unruly passenger can jeopardise safety on board.