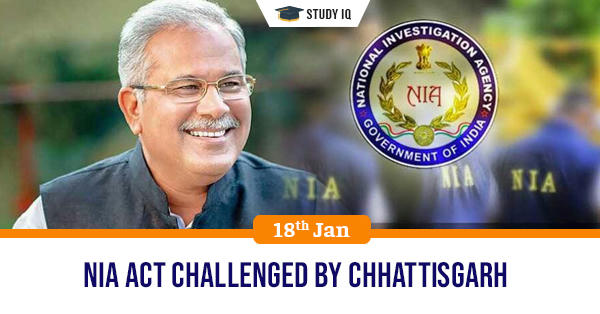 NIA act challenged by Chhattisgarh
Date: 18 January 2020
Tags: Bills & Laws
Issue
The Chhattisgarh government has moved the Supreme Court against the National Investigation Act, 2008 stating it is violative of the Constitution. In its civil suit, the government told the apex court the NIA should have no power over state policing matters.
Background
This is the second instance this week when a state has sought to challenge a central legislation under Article 131 of the Constitution. The Kerala government had moved the Supreme Court against the Citizenship (Amendment) Act.
Details
The law governs the functioning of India's premier counter-terror agency. It was introduced by then home minister P Chidambaram in the wake of the 26/11 Mumbai terrorist attacks and was passed in Parliament with very little opposition.

The Act makes the National Investigation Agency the only truly federal agency in the country, along the lines of the FBI in the United States, more powerful than the CBI.

It gives the NIA powers to take suo motu cognisance of terror activities in any part of India and register a case, to enter any state without permission from the state government, and to investigate and arrest people.

According to the state, the 2008 Act allows the Centre to create an agency for investigation, which is a function of the state police.
Point of conflict
The petition says the 2008 Act takes away the state's power of conducting an investigation through the police, while conferring "unfettered, discretionary and arbitrary powers" on the Centre.

The provisions of the Act leave no room of coordination and pre-condition of consent, in any form whatsoever, by the Central government from the State government which clearly repudiates the idea of state sovereignty as envisaged under the Constitution of India.
New changes
The 2019 NIA Amendment Act expanded the type of offences that the investigative body could investigate and prosecute. The agency can now investigate offences related to human trafficking, counterfeit currency, manufacture or sale of prohibited arms, cyber-terrorism, and offences under the Explosive Substances Act, 1908.

The amendment also enables the central government to designate sessions courts as special courts for NIA trials.

The Unlawful Activities (Prevention) Amendment (UAPA), also passed in 2019, allows an NIA officer to conduct raids, and seize properties that are suspected to be linked to terrorist activities without taking prior permission of the Director General of Police of a state. The investigating officer only requires sanction from the Director General of NIA.