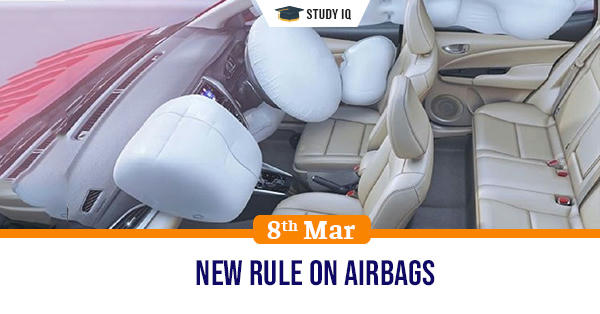 New rule on airbags
Date: 08 March 2021
Tags: Bills & Laws
Issue
The union government has passed a new notification making airbags compulsory for all vehicles in the country.
Background
The new notification is said to be a new safety feature and has been initiated on the advice of the Supreme Court of India.
Details
The announcement is a part of the Union government's plans to improve safety of passengers in cars by reducing threats.

The notification says that Vehicles manufactured on and after the April 1, 2021, in the case of new models, and August 31, 2021, in the case of existing models, have to be fitted with airbags for individuals on the first seat, including the person sitting beside the driver.
Implications
Airbags for the driver's side of a vehicle is compulsory since 2019. The new notifications have been put for public consultation process.

The latest notification is for all existing models in the M1 category in which motor vehicles do not have more than eight seats in addition to the driver's.

All new vehicle models launched in the upcoming financial year will compulsorily have two airbags in front from the beginning.

Existing car models sold without a side airbag have to be modified to adjust with the new notification. The companies have time until August 31, 2021 to do so.

India has about 10% of all road accident victims in the world. The new feature will reduce risks for the individual sitting beside the driver by giving additional protection.
Importance of airbags
An airbag acts as a protective layer between the passenger and the car's dashboard during an accident.

Front airbags are made to inflate so that it can prevent a person's head and chest from hitting hard structures in the vehicle.

Several international study have found out that large number of lives have been saved by an airbag as it reduced impact as well as injuries.

Use of airbags and seatbelts reduce risk of deaths in frontal passengers by about 61%. Airbags alone reduces risk by about 34%.
Effects on car business
The new rules force the car manufacturers to increase the prices of their vehicles as they will have to accommodate air bags.

The customers have to bear the price rise even though the feature may save large number of casualties in accidents.
Other safety features
Anti-Lock Braking System (ABS): It prevents the wheels from locking under braking, and allows the driver to have control of vehicle even in a panic-braking scenario. The Centre had made fitting of ABS compulsory for manufacturers from April 2019.

Speed Alert System: Once the car passes the speed of 80 km/hr, this system sends out an alarm every 60 seconds.

Reverse Parking Sensors: The sensors come into play when the reverse gear is activated and will give out a warning if there are barriers in the path of the reversing car.

Seat belt reminder: The car will sound an alarm if both the driver and front passenger are not wearing seat belts.