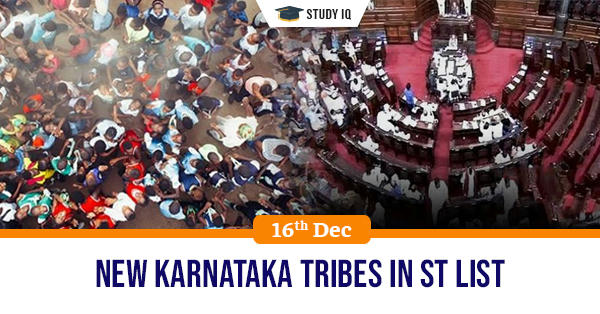 New Karnataka tribes in ST list
Date: 16 December 2019
Tags: Bills & Laws
Issue
The Bill passed a bill that seeks to include the Taliwara, Parivara and Siddi tribal communities in the Scheduled Tribes (ST) list, which will ensure that they get reservation and other benefits provided by the government in Karnataka.
Background
The Bill amends the section of The Constitution (Scheduled Tribes) Order, 1950 that deals with STs in Karnataka.
Details
In 2014, the government of Karnataka in a letter to the central government, recommended the inclusion of the Parivara and Taliwara "as synonyms castes of Nayuka caste in the list of Scheduled Tribes in Karnataka".

Most people from these communities live in Mysore, Chamrajanagara, Mandya and Tumkur districts and a "thin population" resides in Udupi, South Canara and North Canara districts with a majority of them employed as coolies, engaged in collecting firewood, husbandry and the cottage industry, thereby leading a life of lower status.

The communities' life cycle rituals, language, lifestyle, standard of living, physical features, socio-economic and educational status and their geographical isolation are "characteristic features", "similar to that of scheduled tribe and also Beda, Nayaka and Valmiki", communities that are already included in the ST category in the state of Karnataka.
Criteria for Scheduled Tribes
The criteria presently followed for specification of a community as a Scheduled Tribe are :
(i) indications of primitive traits, (ii) distinctive culture, (iii) geographical isolation, (iv) shyness of contact with the community at large, and (v) backwardness.
However, these criteria are not spelt out in the Constitution.