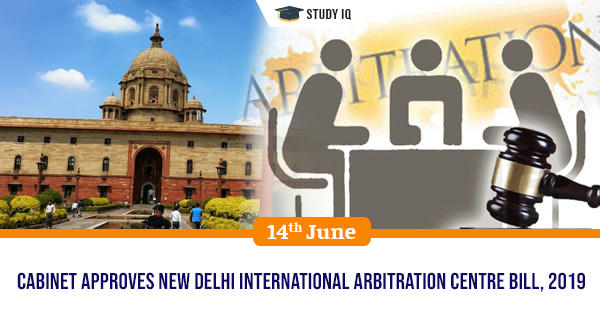 Cabinet approves New Delhi International Arbitration Centre Bill, 2019
Date: 14 June 2019
Tags: Bills & Laws
Union Cabinet has approved New Delhi International Arbitration Centre Bill, 2019 for introduction in the ensuing session of Parliament. It replaces New Delhi International Arbitration Centre Ordinance, 2019. The Bill aims at institutionalizing arbitration process in the country and facilitates to make India to become hub for institutional arbitration.
Note: The Bill takes into consideration recommendations of High-Level Committee (HLC) headed by Justice B.N. Srikrishna, which had recommended Government take over International Centre For Alternative Dispute Resolution (ICADR) and develop it as Institution of National Importance.
Salient Features of Bill
It proposes establishment of New Delhi International Arbitration Centre (NDIAC), an independent and autonomous institution for better management of arbitration in India.

It aims at institutionalized domestic and international arbitration regime and establishing India as an International Hub of Arbitration.

It declares NDIAC as an institution of national importance. It empowers it to conduct arbitration, mediation, and conciliation proceedings.

Composition of NDIAC:

It will consist of seven members including: (i) Chairperson who has been Judge of Supreme Court or High Court, or minent person with special knowledge and experience in t conduct or administration of arbitration, (ii) Two eminent persons having substantial knowledge and experience in institutional arbitration. They will be full time members (iii) Three ex-officio members including Secretary, Department of Legal Affairs, Ministry of Law & Justice, Financial Adviser nominated by Department of Expenditure, Ministry of Finance and Chief Executive Officer, NDIAC will be ex-officio Members. (iv) Representative from recognised body of commerce and industry, appointed as part-time member on a rotational basis.

Objectives of NDIAC:

(i) Promote research, provide training and organise conferences and seminars in alternative dispute resolution matters, (ii) Provide facilities and administrative assistance for conduct of arbitration, mediation and conciliation proceedings, and (iii) Maintain panel of accredited arbitrators, mediators and conciliators.

Key functions of the NDIAC:

(i) Facilitate conduct of arbitration and conciliation in professional, timely and cost-effective manner, and (ii) Promote studies in field of alternative dispute resolution.

International Centre for Alternative Dispute Resolution (ICADR):

The bill acquires and transfers undertakings of International Centre For Alternative Dispute Resolution (ICADR) to New Delhi International Arbitration Centre (NDIAC). ICADR is registered society to promote resolution of disputes through alternative dispute resolution methods such as arbitration and mediation.