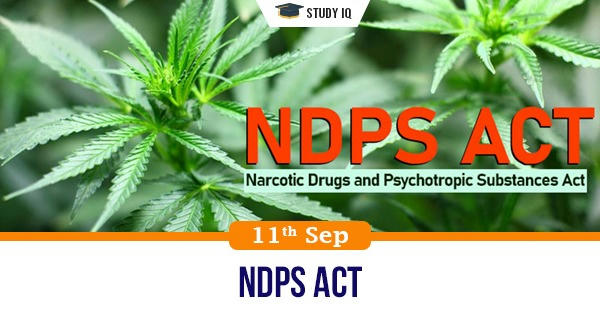 NDPS Act
Date: 11 September 2020
Tags: Bills & Laws
Issue
Actor Rhea Chakraborty and nine others so far have been booked under various sections of the Narcotic Drugs and Psychotropic Substances (NDPS) Act by the Narcotics Control Bureau (NCB).
Details
The NDPS Act, enacted in the country in 1985, is the primary legislation for dealing with drugs and their trafficking.

It was passed as India had to fulfil obligations as a signatory of various international conventions on narcotic drugs and psychotropic substances to prevent its use and illicit trafficking.

It has various provisions to punish manufacturing, sale, possession, consumption, use, transport of banned drugs.

Punishment under the Act can vary based upon the sections the accused is charged. The Act has provisions for the court to grant immunity from prosecution to an addict involved in a small quantity of drugs after they voluntarily seek to undergo medical treatment for de-addiction under section 64A.

The Act also has the maximum punishment of the death penalty under section 31A for certain offences involving commercial quantities of a drug if the accused has been convicted before as well.