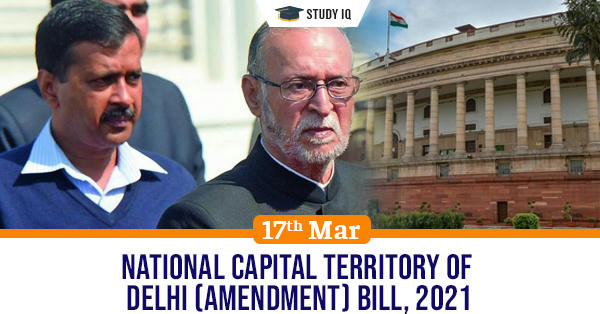 National Capital Territory of Delhi (Amendment) Bill, 2021
Date: 17 March 2021
Tags: Bills & Laws
Issue
The Union government has introduced Government of National Capital Territory of Delhi (Amendment) Bill, 2021 in Lok Sabha.
Background
The bill is set to revive the disputes between elected government and the Lieutenant Governor (L-G).
Details
The issue between elected government and Lieutenant Governor was a major controversy that was resolved by Supreme Court verdict that tilted the balance in favour of elected government.

The centre says that the bill will redefine the responsibilities of the elected government and the Lt Governor in line with constitutional scheme to give effect to Supreme Court judgement.
Provisions of the bill
The bill says that the term 'government' in any law made by the Legislative Assembly will explicitly mean the Lt. Governor.

The L-G's opinion shall be obtained before the government takes any executive action based on decisions taken by the Cabinet or any individual minister.

This was the same interpretation that previous LG Najeeb Jung had asserted under Article 239 and designated as such under Article 239 AA of the Constitution.
Union Territory of Delhi Act
Delhi's status as a Union territory with legislature was initiated with the 69th Amendment Act through which Articles 239AA and 239BB were inserted in the Constitution.

The law contains the powers of the Assembly, the discretionary powers enjoyed by the L-G, and the duties of the Chief Minister towards providing information to the L-G.
Supreme Court judgement
The Supreme Court had held that the L-G's affirmation is not required on issues other than police, public order and land.
Changes in administrative role
The amendment will force the elected government to take the L-G's advice before taking any action on any cabinet decision.

The Bill will prevent the Assembly or its committees from forming rules to take up matters related to day-to-day administration, or to conduct inquiries in relation to administrative decisions.
Implications
The Supreme Court judgment had given the government a freer hand in terms of policy decisions. This included clearing policy decisions that were central to the government.

The bill will make it mandatory for the elected government to route all its files through the L-G. It will take away the government's autonomy and the dream for full statehood for the state.