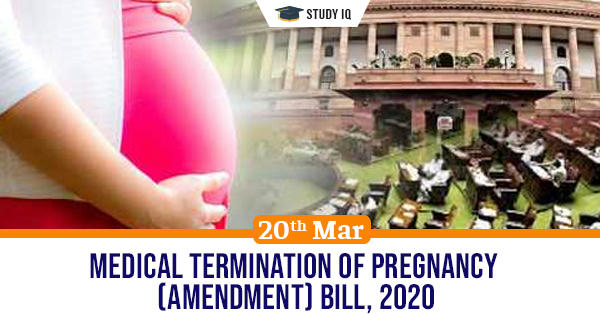 Medical Termination of Pregnancy (Amendment) Bill, 2020
Date: 20 March 2021
Tags: Bills & Laws
Issue
The Lok Sabha has passed the Medical Termination of Pregnancy (Amendment) Bill, 2020, that was recently approved by Rajya Sabha.
Background
The bill was introduced a year back in the house but was later sent to a select committee to make necessary amendments.
Details
The Bill will allow performing abortion on the advice of one doctor up to 20 weeks, and two doctors in the case of certain women categories between 20 and 24 weeks. Existing provisions allow abortion between 12 and 20 weeks.

The Bill will set up state level Medical Boards to decide if a pregnancy can be terminated after 24 weeks in cases of certain foetal abnormalities.

The Bill does not specify women categories that may terminate pregnancies between 20-24 weeks.

The bill specifies that abortion has to be performed only by doctors with specialisation in gynaecology or obstetrics.
Other provisions
The bill allows pregnancy to be terminated up to 20 weeks by a married woman if a contraceptive method or device fails.

Details of the woman undergoing pregnancy termination will have to be revealed only to the person authorised by law.
Current situation
Women are forced to use dangerous methods and take help of unauthorised people to terminate their pregnancy beyond 20 weeks which brings risk to their life.
Concerns
The categories of women that can terminate their pregnancies after period of 20-24 weeks have not been specified.

The time period for medical board to give their opinion has not been mentioned.

The bill does not specify if it will cover transgender community.

It does not try to address the shortage of qualified medical professionals who can terminate pregnancies.