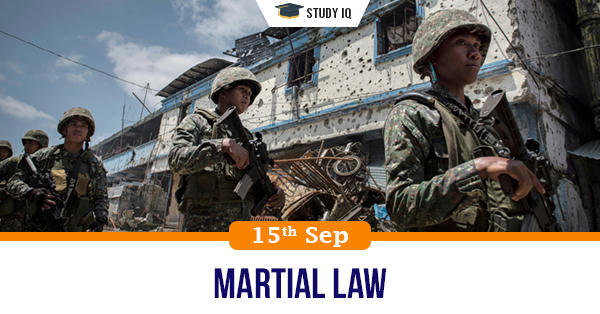 Martial Law
Date: 15 September 2020
Tags: Bills & Laws
Issue
Republican strategist and convicted felon Roger Stone has suggested Trump to enforce martial law in the US and seize power if he loses the November-3 election.
Background
Martial law is the imposition of direct military control of normal civil functions or suspension of civil law by a government, especially in response to a temporary emergency where civil forces are overwhelmed, or in an occupied territory.
Details
Trump, who is trailing Democratic presidential candidate Joe Biden in the presidential polls, has repeatedly cast uncertainty on whether he would accept the election results.

Trump said that if leftwing protests sweep the US in the event of his winning re-election, he would use the Act to put down the demonstrations and unrest within minutes.

Under the US Constitution, the governors of states are responsible for maintaining law and order within state boundaries. A law called the Posse Comitatus Act, which reflects this principle, restricts the federal military's participation in domestic law enforcement.

The law has since been amended several times, and now consists of a group of statutes that empower the US President to use the National Guard or the military to deal with domestic crises, in certain circumstances.

The President does not require the state governor's approval to send troops under some scenarios laid down by the law. A successful legal challenge to such use of the law is also very unlikely.

Although the Act has been enforced on numerous occasions in US history, its use in recent decades has been widely seen as unpopular.