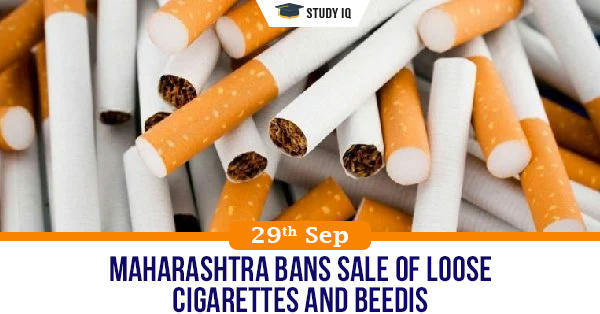 Maharashtra bans sale of loose cigarettes and beedis
Date: 29 September 2020
Tags: Bills & Laws
Issue
The Maharashtra government has banned the sale of loose cigarettes and beedis, in a bid to reduce the consumption of tobacco and to comply with the Cigarettes and Other Tobacco Products Act (COTPA) 2003.
Background
Before this, Chhattisgarh had banned the sale of loose cigarettes earlier this year, while Karnataka banned the sale of loose cigarettes, beedis and chewing tobacco in 2017.
Details
The government's aim is to make sure that users are able to see the mandated warnings on cigarette packaging.

Under COTPA, tobacco products need to be sold with graphic health warnings on their packaging and loose cigarettes do not comply with this rule.

The Act also mentions that the warning should be specified on not less than one of the largest panels of the packet in which the cigarettes or any other tobacco products have been packed for distribution, sale, and supply.

Further, India is a signatory to the WHO Framework Convention on Tobacco Control, whose core tobacco demand reduction provisions include regulating the packaging and labelling of tobacco products and product disclosures. India ratified the WHO FCTC in 2004.

The effectiveness of this ban remains to be seen and depends on how widespread and stringent the implementation is.

While on one hand making tobacco products dearer may lead to an overall decrease in consumption of tobacco globally, on the other hand, it can lead to an increase in the sale of loose cigarettes.

This study found that 57 percent of cigarette smokers (3.46 million approximately) in India (based on data from the Global Adult Tobacco Survey) bought loose cigarettes.

The authors of this study also note that the proportion of buying loose cigarettes decreased with increased levels of education and was least among government employees.

But this study associated loose cigarette buying with decreased intensity of smoking. This may be due to increased taxes leading to increased buying of single cigarettes.