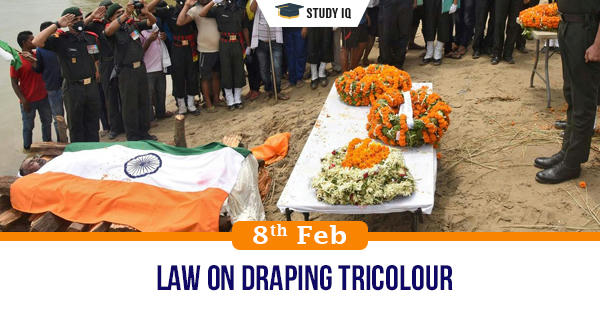 Law on draping Tricolour
Date: 08 February 2021
Tags: Bills & Laws
Issue
Police in Uttar Pradesh's Pilibhit district have booked the mother and brother of a farmer under The Prevention of Insults to National Honour Act, 1971.
Background
The Police have alleged that the accused draped the body of the farmer in national flag, which is a grave offence.
Details
The Prevention of Insults to National Honour Act is a cognizable offence and can only be made out against someone who intentionally disrespects the flag.

The law penalises the desecration of or insult to Indian national symbols, such as the National Flag, the Constitution, the National Anthem, and the Indian map, as well as contempt of the Constitution of India.

As per the Act, "disrespect to the Indian National Flag means and includes", among other things, "using the Indian National Flag as a drapery in any form whatsoever except in State funerals or armed forces or other para-military forces funerals".

On occasions of State/Military/Central Paramilitary Forces funerals, the flag shall be draped over the bier or coffin with the saffron towards the head of the bier or coffin. The Flag shall not be lowered into the grave or burnt in the pyre.

The flag can only be used during a funeral if it is accorded the status of a state funeral. The status of a state funeral can be accorded in case of death of people not belonging to the armed forces, police or the above-mentioned categories by the state government. Then too, the national flag can be used.

Apart from police and armed forces, state funerals are held when people who are holding or have held office of President, Vice-President, Prime Minister, Cabinet Minister, Chief Minister pass away.