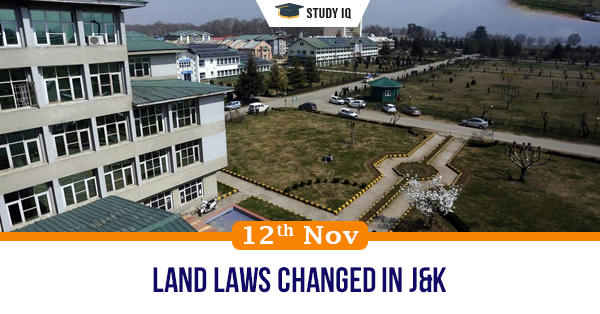 Land laws changed in J&K
Date: 12 November 2020
Tags: Bills & Laws
Issue
The Ministry of Home Affairs has introduced amendments to 14 laws of the erstwhile state of Jammu and Kashmir, and repealed 12 others.
Background
These are The J&K Development Act, 1970, The J&K Land Revenue Act, 1996, The Agrarian Reforms Act, 1976, and The J&K Land Grants Act, 1960.
Details
The most evident change has been made to The J&K Development Act, which has removed the phrase "permanent resident of the State" without specifying any substitute such as domicile, thereby allowing the purchase of land by any individual.

While defining "strategic areas" in J&K, Section 3 of the Act states that the government may "on the written request of an Army officer not below the rank of Corps Commander, declare an area as Strategic Area within a local area, only for direct operational and training requirements of armed forces".

Section 133-A of The J&K Land Revenue Act, 1996, states, "no land used for agriculture purposes shall be used for any non-agricultural purposes except with the permission of the District Collector".

Further, sub-section 2 of Section 113-A adds that an owner or occupant who wishes to put his agricultural land to non-agricultural uses as provided in the regional plan, development plan or master plan as the case may be, "shall do so it after payment of conversion charges as prescribed by the Board from time to time".

Therefore, either with permission from a district collector or through payment of conversion fee, agricultural land can be re-purposed for non-agricultural use.

The administration has also argued that the move is aimed at providing the people of J&K a "modernised" land management system that is people-friendly, and brings greater transparency in land management.

Under The J&K Development Act, provisions have been made for setting up an Industrial Development Corporation (IDC) to ease the setting up of industries in the region.