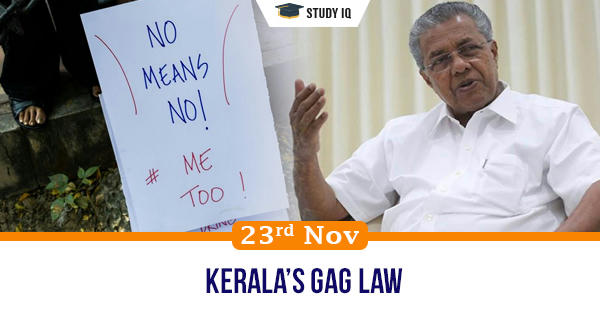 Kerala's gag law
Date: 23 November 2020
Tags: Bills & Laws
Issue
Kerala Governor Arif Mohammad Khan has approved an ordinance promulgated by the government in the state for punishing individuals expressing abusive remarks online.
Background
In 2015, the Supreme Court in a landmark judgment on Section 66A of the IT Act had also struck down a similar provision of the Kerala Police Act for being violative of the right to freedom of speech and expression and for its vagueness.
Details
The Section 118 (d) of the Kerala law provided for imprisonment, extending upto three years, of any person convicted for causing "annoyance" to any person "in an indecent manner" by "statements or verbal comments or telephone calls or call of any type or by chasing or sending messages or mail by any means".

In the Shreya Singhal case ruling, the apex court had said what it has said about Section 66A would directly apply to the provision "as causing annoyance in an indecent manner suffers from the same type of vagueness and overbreadth".

Section 118A provides for a similar punishment on conviction as that of the Section 66A and the Section 118(d) but is not restricted to communication made through a computer resource or a communication device, as it explicitly states "through any kind of mode of communication", and also is not restricted to annoying someone, like Section 118 (d).

Section 118A of the Kerala Police Act makes the defamatory content and the other acts defined under it a cognizable and bailable offence; a police officer has the power to arrest a person only if his arrest is necessary to prevent or not to continue the offence.
Right to freedom
The right to freedom guarantees freedom for citizens to live a life of dignity. These are given in Articles 19, 20, 21A, and 22 of the Indian Constitution.
Article 19
Article 19 guarantees six freedoms.
Freedom of speech and expression: The State guarantees freedom of speech and expression to every person of India.
The State can impose restrictions on the freedom of speech and expression in the interests of the integrity, security, and sovereignty of the country, friendly relations with foreign nations, for public order.
Freedom to assemble: The State guarantees every person the freedom to assemble peacefully without arms.

Freedom to form associations:

Freedom to move freely: A citizen of India can move freely throughout the territory of India.

Freedom of residence: Citizens of India have the right to reside in any part of the country.

Freedom of profession: Citizens have right to practice any profession.