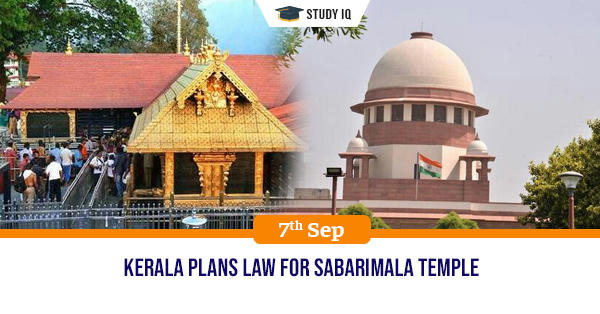 Kerala plans law for Sabarimala temple
Date: 07 September 2019
Tags: Bills & Laws
Issue
An August 27 order of the Supreme Court records that the Kerala government counsel has submitted that the State is preparing a separate law to administer the Sabarimala Ayyappa temple.
Background
On September 28, 2018, a Constitutional Bench led by then Chief Justice India with majority, struck down Rule 3(b) of the Kerala Hindu Places of Public Worship (Authorisation of Entry) Rules, 1965 which was the basis for barring entry of women between the ages of 10 and 50 years into the temple.
Details
In September 2018 the Supreme Court of India ruled that women of all age groups can enter Sabarimala temple. This has opened the celibate god for women who are in their menstruating age, thus defying ancient tradition.

The new legislation would cover not just the Sabarimala temple, but all temples coming under the Travancore Devaswom Board in Kerala.

The development comes at a time when the state government is reeling from aftereffects of its stand on the Sabarimala issue after the apex court quashed age restrictions for entry of women.
Sabarimala Temple
The Sabarimala temple is a temple complex located at Sabarimala inside the Periyar Tiger Reserve in Pathanamthitta district, Kerala, India.

It is the site of the one of the largest annual pilgrimage in the world with an estimate of between 17 million and 50 million devotees visiting every year