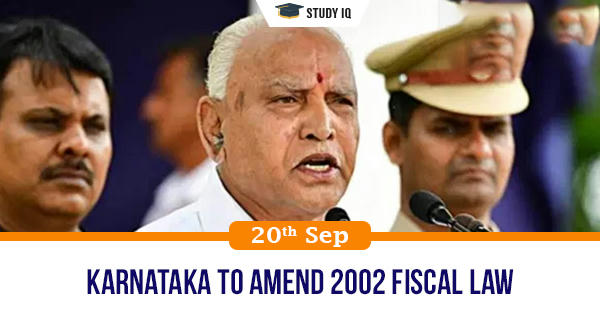 Karnataka to amend 2002 fiscal law
Date: 20 September 2020
Tags: Bills & Laws
Issue
The government of Karnataka has taken a decision to amend the Karnataka Fiscal Responsibility Act, 2002 in order to allow the state to breach the annual fiscal deficit ceiling of three percent of gross state domestic produce (GSDP) and increase it to five percent to enable higher borrowings.
Background
The objective is to tide over the financial crisis created by falling revenues and lack of GST compensation before and after the Covid-19 crisis.
Details
The proposed amendment to the Karnataka Fiscal Responsibility Act, 2002, will be the third occasion since 2002 when the state has amended the fiscal responsibility law to allow for higher market borrowings to compensate for shortfall in funds for development work in the state.

The Act, which received the assent of the Karnataka Governor in August 2002, is intended to make the state government responsible for financial stability and sustainability, by setting and achieving annual and long-term targets for revenues, reduction of fiscal deficit and clarity in fiscal policies.

The law imposes limits on borrowings, debt and deficits in order to facilitate creation of "social and physical infrastructure and human development".

One of the key financial policy demands on the state government under the law is "to take appropriate measures to eliminate revenue deficit and contain the fiscal deficit to 3 percent of GSDP".

It also requires the state to present medium-term fiscal plans along with the annual budget with rolling targets for the fiscal indicators for four years.

The increase in the fiscal deficit ceiling will allow the state to borrow a maximum of an additional Rs 36,000 crore in the current fiscal and the state has decided to avail of Rs 33,000 crore out of the eligible amount.

The Karnataka government has in the last few months carried out a few reforms to land and labour laws to be in a position to borrow funds.

Karnataka is facing economic issue with a loss of Rs.35,160 crore due to floods, a slump in the state GSDP from 7.8 percent in 2018-19 to 6.8 percent in 2019-20, a reduction of Rs.8,887 crore in the state's share of central taxes, and a Rs 3,000 crore loss in GST compensation due to reduced collections.

To manage this situation within the bounds of the Karnataka Fiscal Responsibility Act, an inevitable situation has arisen this year to cut down the expenditure of many departments.