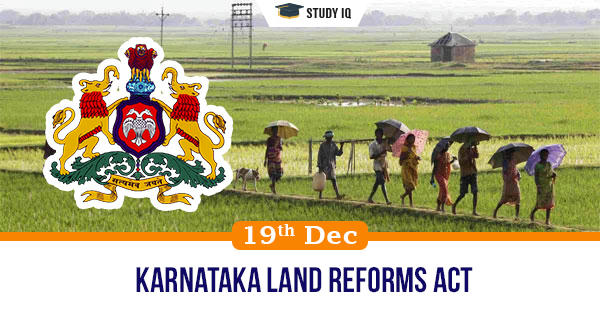 Karnataka Land Reforms Act
Date: 19 December 2020
Tags: Bills & Laws
ssue
The opposition has called for amendments to the Karnataka Land Reforms Act 1961, which were passed in the state legislature by the government.
Background
Successive governments have in recent years gradually diluted land ownership norms under the Land Reforms Act to facilitate industrial growth and agricultural land ownership by non-farmers.
Details
The Karnataka Land Reforms (Amendment) Bill, 2020 has repealed three key sections of the Karnataka Land Reforms Act of 1961 which imposed certain restrictions on ownership of farmland.

The amendments have done away with Section 79A of the Act that allowed only those earning less than Rs 25 lakh per annum to buy agricultural land, and Section 79B that said only people earning a living through agriculture could buy agricultural land.

The amendment has also removed Section 79C of the Act, which allowed revenue departments to investigate alleged violations of Sections 79A and 79B during land purchases.
Opposition
Critics say that the amendment will result in the loss of agricultural land that could have been cultivated to meet food requirements.

They also alleged that the amendment is intended to benefit the real estate mafia in Bengaluru.
Reasons for amendment
There has been growing pressure from industry to amend land ownership laws to bring them in line with those in the neighbouring states in order to facilitate growth away from the stagnant agriculture sector.

It is also expected to bring new industries to the state and create employment opportunities to the growing population.