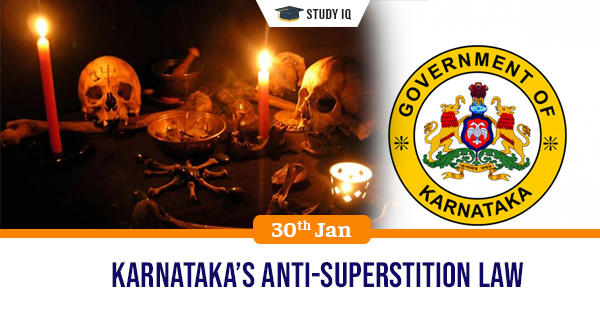 Karnataka's anti-superstition law
Date: 30 January 2020
Tags: Bills & Laws
Issue
A controversial anti-superstition law in Karnataka, which was passed during the tenure of a previous government in a diluted form as the Karnataka Prevention and Eradication of Inhuman Evil Practices and Black Magic Act, 2017, and received the assent of the Governor, has been formally notified.
Background
An expert panel from the Centre for the Study of Social Exclusion and Inclusive Policy of the National Law School of India University (NLSIU) first presented a draft Bill, outlawing over a dozen superstitious practices in 2013.
Details
The model Bill held human dignity as its central tenet and sought eradication of irrational practices found in different communities. The first draft made practices like inflicting self-wounds and conversion through bribery illegal.

Some of the proposals opposed by religious leaders and political parties in the early draft were the ban on practices such as the carrying of priests in palanquins, worshipping the feet of religious leaders etc.

There was also political opposition for a proposed ban on the practice of Vaastu, astrology and palmistry. The inclusion of practices considered to have Vedic origins, such as Vaastu and astrology, among practices to be banned was opposed by various groups.

Practices such as barring menstruating women from entering houses of worship and their homes, coercing people to take part in fire-walks, and beating up people by declaring them evil, are among the irrational practices that have been banned under the 2017 law.

The law stipulates imprisonment for a term which shall not be less than one year but which may extend to seven years and with fine which shall not be less than five thousand rupees but which may extend to fifty thousand rupees, as punishment for violations.

The law is to implemented by the state police with the appointment of vigilance officers under the law at police stations.
Superstitions
Superstition is any belief or practice that is considered irrational or supernatural which arises from ignorance, a misunderstanding of science or causality, a positive belief in fate or magic, or fear of that which is unknown.