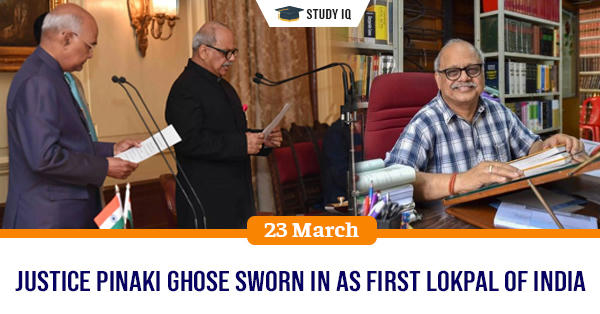 Justice Pinaki Ghose sworn in as first Lokpal of India
Date: 23 March 2019
Tags: Constitution, Bills & Laws, Judiciary & Judgments
Justice Pinaki Ghose was sworn in as first Lokpal of India, national anti-corruption ombudsman of the country. He was oath to office by President Ram Nath Kovind. His appointment was approved by President based on recommendation of Lokpal selection panel chaired by Prime Minister Narendra Modi and comprised of Chief Justice of India Ranjan Gogoi, Lok Sabha Speaker Sumitra Mahajan, eminent jurist Mukul Rohatgi. Leader of Opposition in Lok Sabha Mallikarjun Kharge was not present in meeting of selection panel. President also has appointed four judicial and four non-judicial members of the Lokpal. They are
Judicial Members: Dilip B. Bhosale (Former Chief Justice), Pradip Kumar Mohanty (Former Chief Justice), Abhilasha Kumari (Former Chief Justice), Ajay Kumar Tripathi (sitting Chief Justice of Chhattisgarh).
Non-Judicial Members: Archana Ramasundaram (First woman Chief of Sashastra Seema Bal), Dinesh Kumar Jain (Former Chief Secretary, Maharashtra), Mahender Singh (Former IRS officer), Indrajeet Prasad Gautam (Former IAS officer).
Lokpal
It is national anti-corruption authority or body of ombudsmen with jurisdiction over central government to inquire into allegations of corruption against its public functionaries and for matters connected to corruption.
Historical Background
The institution of ombudsman originated in Scandinavian (referred to Norway, Denmark and Sweden) countries. It first came into being in Sweden in 1713 as "chancellor of justice" appointed by King to assist as invigilator by looking into functioning of a wartime government. Word Lokpal is derived from Sanskrit word "Loka" meaning people and "pala" meaning protector or caretaker. Together it means "protector of people".
Statutory Backing
Lokpal and Lokayukta Act, 2013 provides for establishment of Lokpal for Centre and Lokayukta for States to inquire into allegations of corruption against certain public functionaries and for related matters.

It extends to whole of India, including Jammu & Kashmir. It is applicable to "public servants" within and outside India. It mandates for creation of Lokpal for Union and Lokayukta for states.
Structure of Lokpal
It is statutory body without any constitutional backing. It is multimember body, made up of one chairperson and maximum of 8 members.

Person to be appointed as chairperson of Lokpal should be either the former Chief Justice of India or former Judge of Supreme Court or eminent person.

In this case, eminent person must have impeccable integrity and outstanding ability, special knowledge and expertise of minimum 25 years in matters relating to anti-corruption policy, public administration, vigilance, finance including insurance and banking, law and management.

Out of maximum eight members, four are judicial members and four are non judicial. Minimum 50% of members must be from SC/ST/OBC/minorities and women. Judicial members should be either a former Judge of Supreme Court or former Chief Justice of High Court.
Jurisdiction of Lokpal
It includes Prime Minister under its ambit. But except in cases on allegations of corruption related to international relations, security, public order, atomic energy and space. Moreover, bench of Lokpal and at least two-thirds of members approve an inquiry.

It also has jurisdiction over ministers and MPs (but not in matter of anything said in Parliament or a vote given there).

It also cover all categories of public servants viz, Group A, B, C or D officers defined as such under Prevention of Corruption Act, 1988.

Any corruption complaint against Group A and B officers, after inquiry, will directly come to Lokpal. However, in case of Group C and D officers, Chief Vigilance Commissioner (CVC) will investigate and report to Lokpal.
Powers of Lokpal
Superintendence over CBI and give direction to CBI.

Investigating officer of case transferred to CBI by Lokpal cannot be transferred without its approval.

It can authorize CBI for search and seizure operations connected to such case.

Its Inquiry Wing is vested with the powers of a civil court.

It can confiscate assets, proceeds, receipts and benefits arisen or procured by means of corruption in special circumstances

It can recommend transfer or suspension of public servant connected with allegation of corruption.

It can give directions to prevent destruction of records during preliminary inquiry.