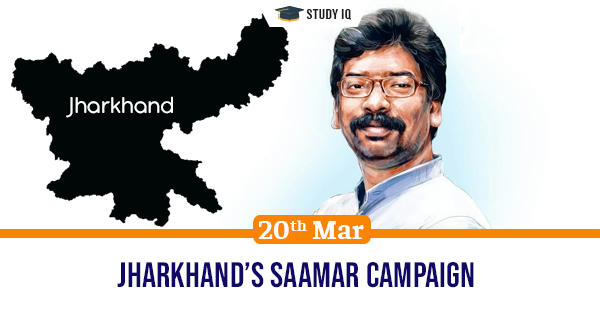 Jharkhand's SAAMAR campaign
Date: 20 March 2021
Tags: Bills & Laws
Issue
The government of Jharkhand has announced SAAMAR (Strategic Action for Alleviation of Malnutrition and Anaemia Reduction) campaign to tackle malnutrition in the state.
Details
The campaign will try to identify anaemic women and malnourished children in the state by bringing together various departments.

Economic survey has highlighted that the Comprehensive National Nutrition Survey had identified about 36% of children under five years of age are stunted, 29% are affected from Wasting and 45% are underweight.
Malnutrition in the state
The condition of every second child in the state is stunted and underweight and every third child is victim to stunting and every 10th child is affected by severe wasting and around 70% children are anaemic.

Dealing with malnutrition in the state has been a sense of concern due to lack of doctors or health care workers.
Significance of SAAMAR
There are various malnutrition tackling schemes running but still the situation is far from improving. Internal surveys have shown a need for a different approach.

SAAMAR has a 1000 days target where regular surveys will be conducted to track the progress of the campaign.

Various departments such as Rural Development Department and Food and Civil Supplies will be converged for better cooperation.

There will be continuous engagement with school management committees, gram sabhas among others and make them aware of nutritional need.

The most significant part of the campaign is its intention to target Particularly Vulnerable Tribal Groups, that have not yet been given due focus.

The campaign will engage Anganwadi Centres to identify malnutrition children and subsequently they will be treated at the Malnutrition Treatment Centres.

Identification process will include measuring Mid-Upper Arm Circumference (MUAC) of women and children through MUAC tapes and Edema levels, swelling in a small area or the entire body.
Measuring outcomes
Panchayats will be treated as a unit and 8-10 parameters will be used to tackle the nutritional issue.

The Panchayat building will carry a special colour code that will indicate the nutritional status of the area.

Audit in Panchayats will be conducted to identify malnutrition-free status and a sum of 1 lakh will be given to achieve this.