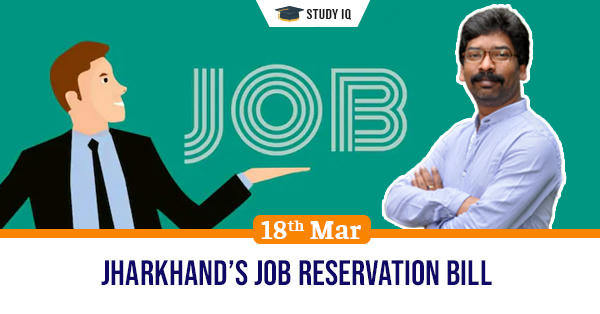 Jharkhand's job reservation bill
Date: 18 March 2021
Tags: Bills & Laws
Issue
The Jharkhand government has announced 75% reservation in jobs for locals in private sector having a salary up to Rs 30,000.
Background
With the announcement, Jharkhand joins states such as Haryana and Andhra Pradesh that have formulated a similar law.
Details
The proposed bill will consider shops, mines, ventures, enterprises, industries, , societies, companies, trusts, Limited Liability Partnership firms and any person employing ten or more persons as the private sector and an entity.

Every employer will have to register employees on a portal who are getting gross monthly salary or wages not more than Rs 30, 000 within three months of implementation.

No new person should be hired or employed unless the registration process is complete on the designated portal.

In addition, no local candidate will be eligible to obtain 75 per cent benefit without registering themselves on the designated portal.
Criteria
The bill considers a local candidate as an individual who is a resident of Jharkhand and is registered on the designated portal.

Determining the designation of 'Jharkhandi' is a bone of contention and has not been resolved yet by successive governments.
Exemptions
The employer will be eligible for exemption when an adequate number of local candidates of the desired skill qualification are not available. He will have to apply to a Designated Officer.

The officer can accept or reject the proposal or may direct the local employer to train the local candidates as per need.
Checks and Balances
An employer has to provide a quarterly return about vacancies and employment on the portal. An Authorised Officer (AO) may pass an order seeing the compliance of the policy.

If the employer fails to cooperate with the officer or showing non-compliance, he/she will be liable to be punished.

The employer can file an appeal within 60 days of an order passed by the AO or DO in front of an Appellate Authority.
Penalties
The penalty for not registering themselves on the given portal is Rs 50, 000 and may extend up to Rs 1 lakh.

In case of records faking, the penalty will be up to Rs 50, 000 and if the offence is committed again, the penalty will be between Rs two to five lakh.