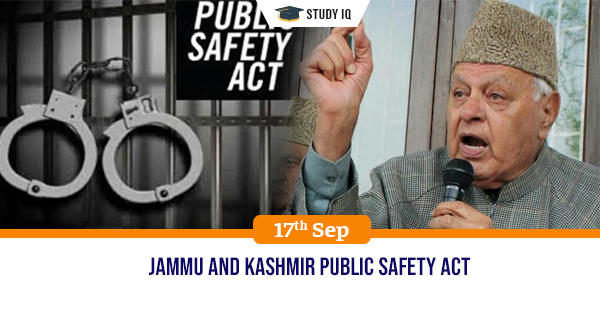 Jammu and Kashmir Public safety Act
Date: 17 September 2019
Tags: Bills & Laws
Issue
Former Jammu and Kashmir Chief Minister Farooq Abdullah has been detained under the state's stringent Public Safety Act (PSA), which enables authorities to detain any individual for two years without trial.
Background
The Jammu & Kashmir Public Safety Act, 1978 is a preventive detention law, under which a person is taken into custody to prevent him or her from acting in any manner that is prejudicial to "the security of the state or the maintenance of the public order".
It is very similar to the National Security Act that is used by other state governments for preventive detention.
Details
Application
The PSA comes into force by an administrative order passed either by Divisional Commissioner or the District Magistrate, and not by an detention order by police based on specific allegations or for specific violation of laws.
Problems associated with the law
The PSA allows for detention of a person without a formal charge and without trial.

A person who is detained under the PSA need not be produced before a magistrate within 24 hours of the detention.

The detained person does not have the right to move a bail application before a criminal court, and cannot engage any lawyer to represent him or her before the detaining authority.

The only way this administrative preventive detention order can be challenged is through a habeas corpus petition filed by relatives of the detained person in High Court or Supreme Court.

Even if the courts quashes the order of detainment, the government has the power to rearrest the individual again after his release.
Constitutional validity
Article 22(3)(b) allows for preventive detention and restriction on personal liberty for reasons of state security and public order.

The Supreme Court has held that in order to prevent misuse of this potentially dangerous power, the law of preventive detention has to be strictly construed and meticulous compliance with the procedural safeguards.