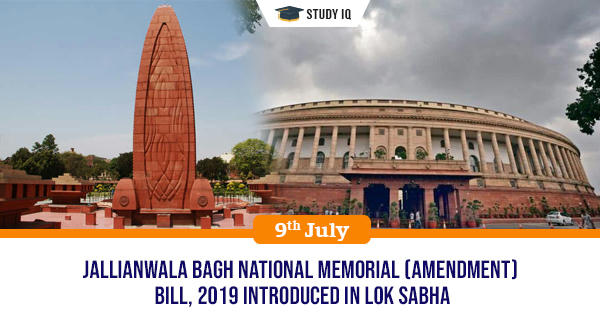 Jallianwala Bagh National Memorial (Amendment) Bill, 2019 introduced in Lok Sabha
Date: 09 July 2019
Tags: Bills & Laws
The Jallianwala Bagh National Memorial (Amendment) Bill, 2019 was introduced in Lok Sabha by Union Tourism Minister of State (I/C) Prahlad Singh Patel. The bill seeks to do away with automatic nomination of President of Indian National Congress (INC) to the Jallianwala Bagh Trust.
About Jallianwala Bagh National Memorial Act, 1951
It provides for erection of National Memorial in memory of those killed or wounded on April 13, 1919, in Jallianwala Bagh, Amritsar. In addition, it creates Trust to manage this national memorial.
Composition of Trust: Trustees of Memorial include: (i) Prime Minister as Chairperson, (ii) President of Indian National Congress (this representation is considered as political as it is represented by single national political party) (iii) Minister in-charge of Culture (iv) Leader of Opposition in Lok Sabha, (v) Governor of Punjab (vi) Chief Minister of Punjab and (vii) three eminent persons nominated by Union Government and have term of five years and will be eligible for re-nomination.
Features of Amendment Bill
It removes President of Indian National Congress as permanent trustee of the memorial trust. Purpose of this move is delete party-specific member from trust to make it apolitical.

Further, it clarifies that when there is no Leader of Opposition (LoP) in Lok Sabha, then leader of single largest opposition party in Lok Sabha will be Trustee.

It adds provision to confer central government powers to terminate term of a nominated trustee before expiry of his term without assigning any reason.
Background
Jallianwala Bagh Massacre also known as Amritsar Massacre took place on 13 April 1919 when troops of British Indian Army under command of Colonel Reginald Dyer openly fired on peaceful crowd gathered in Jallianwala Bagh, Amritsar, Punjab. In this cold-blooded genocide approximately 1,000 innocent civilians dead and more than 1,500 were injured.
The crowd had gathered at Jallianwala Bagh to celebrate Baisakhi festival, which marks beginning of New Year for Sikhs and in addition it is spring harvest festival for Sikhs. During this time Rowlatt Act, 1919 was in force, but civilians were not informed. This act had imposed curfew and ban on all processions and even prohibited group of 4 or more people to meet publicly.
This ground stands witness to inhuman atrocities of British Empire. To keep in mind this significance of this place, trust was founded in 1920 to build memorial site at Jallianwala Bagh. American architect, Benjamin Polk, built memorial site. It was inaugurated by then President Rajendra Prasad on 13 April 1961.