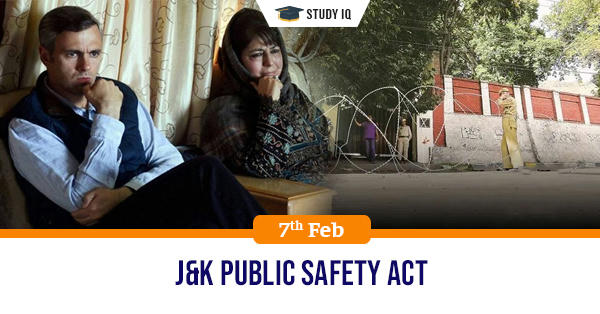 J&K Public Safety Act
Date: 07 February 2020
Tags: Bills & Laws
Issue
The Jammu and Kashmir administration has imposed the stringent Public Safety Act (PSA) against former Jammu and Kashmir Chief Ministers Mehbooba Mufti and Omar Abdullah.
Background
Both Mr. Omar Abdullah and Ms. Mehbooba Mufti were booked under Section 107 along with Section 151 (for apprehension of breaching peace). Dr. Farooq Abdullah became the first mainstream leader to face the PSA in September 2019.
Details
The PSA
The Jammu & Kashmir Public Safety Act, 1978 is a preventive detention law, under which a person is taken into custody to prevent him or her from acting in any manner that is prejudicial to "the security of the state or the maintenance of the public order.

It comes into force by an administrative order passed either by Divisional Commissioner or by the District Magistrate, and not by a detention order by police based on specific allegations or for a specific violation of laws.
Provisions under PSA
The PSA allows for the detention of a person above the age of 16 years without a formal charge and without trial.

It can be slapped on a person already in police custody; on someone immediately after being granted bail by a court; or even on a person acquitted by the court. Detention can be up to two years.

Unlike in police custody, a person who is detained under the PSA need not be produced before a magistrate within 24 hours of the detention.

The detained person does not have the right to move a bail application before a criminal court, and cannot engage any lawyer to represent him or her before the detaining authority.

The only way this administrative preventive detention order can be challenged is through a habeas corpus petition filed by relatives of the detained person.

The High Court and the Supreme Court have the jurisdiction to hear such petitions and pass a final order seeking quashing of the PSA.

However, if the order is quashed, there is no bar on the government passing another detention order under the PSA and detaining the person again.

The District Magistrate who has passed the detention order has protection under the Act, which states that the order is considered "done in good faith".

Also, after an amendment, last year by the Governor, persons detained under the PSA in Jammu & Kashmir can now be detained in jails outside the state.