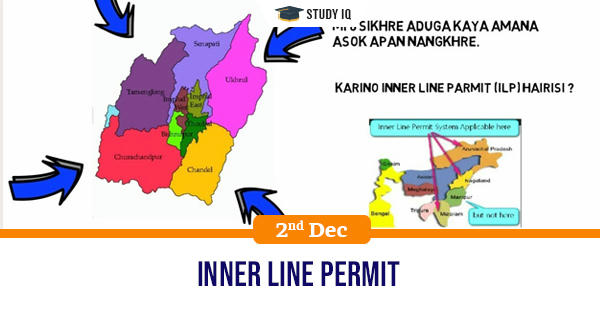 Inner Line Permit
Date: 02 December 2019
Tags: Bills & Laws
Issue
In anticipation of the upcoming Citizenship Ammendment Bill, the northeastern states have raised concerns regarding the validation of Inner Line Permit.
Background
Union Home Minister Amit Shah assured representatives of North-eastern states that the Bill would provide protection to such regions and states where the Inner Line Permit (ILP) is applicable, and autonomous administration has been granted under the Sixth Schedule of the Constitution.
Details
Inner Line Permit is a document that allows an Indian citizen to visit or stay in a state that is protected under the ILP system. The system is in force today in three Northeastern states viz Arunachal Pradesh, Nagaland and Mizoram.

No Indian citizen can visit any of these states unless he or she belongs to that state, nor can he or she overstay beyond the period specified in the ILP.
History
The concept comes from the colonial area. Under the Bengal Eastern Frontier Regulation Act, 1873, the British framed regulations restricting the entry and regulating the stay of outsiders in designated areas.

This was to protect the Crown's own commercial interests by preventing "British subjects" (Indians) from trading within these regions.

In 1950, the Indian government replaced "British subjects" with "Citizen of India". This was to address loval concerns about protecting the interests of the indigenous people from outsiders belonging to other Indian states.
Concerns
The Citizenship (Amendment) Bill aims to make it easier for non-Muslim refugees from Bangladesh, Pakistan, and Afghanistan to obtain Indian citizenship.

If it is implemented with provisions for excluding from its ambit the states under the ILP regime, it means that beneficiaries under CAB will become Indian citizens but will not be able to settle in these three states.

The North East Students' Organisation, an umbrella body of all powerful students' bodies of the regions had reiterated its demand for overall implementation of the Inner Line Permit (ILP) in all NE states.

The three states that have seen the highest migration and likely to be affected from Citizenship Bill are Assam, Tripura and Meghalaya, none of which has an ILP system.