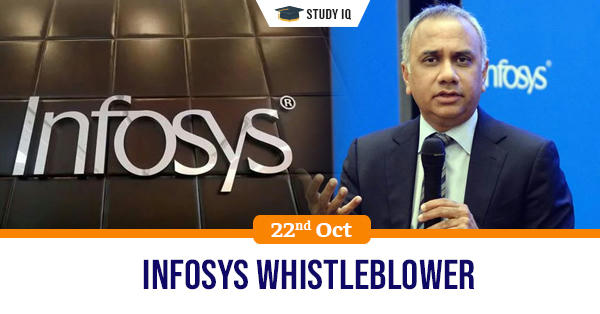 Infosys whistleblower
Date: 22 October 2019
Tags: Bills & Laws
Issue
An anonymous group of Infosys' employees have reportedly accused current CEO Salil Parekh and CFO Nilanjan Roy of indulging in unethical practices.
Background
Infosys has also received whistleblower complaints earlier pertaining to wrongdoings in its M&A deals, including in the acquisition of Israeli automation technology firm Panaya.
Details
The whistleblower letter, which was shared with Infosys' Board and the US Securities and Exchange Commission, claims that "critical information" has been hidden from the auditors and the Board.

It is alleged that the CEO is bypassing reviews and approvals and instructed sales not to send mails for approvals.

The whistleblowers group have also claimed to possess several proof including voice recordings that clearly mention the unethical practices being carried out.
Whistleblower
A whistleblower is a person who exposes secretive information or activity that is deemed illegal, unethical, or not correct within a private or public organization.

The information of alleged wrongdoing can be classified in many ways: violation of company policy/rules, law, regulation, or threat to public interest/national security, as well as fraud, and corruption.

Those who become whistleblowers can choose to bring information or allegations to surface either internally or externally.

Internally, a whistleblower can bring his/her accusations to the attention of other people within the accused organization such as an immediate supervisor.

Externally, a whistleblower can bring allegations to light by contacting a third party outside of an accused organization such as the media, government, law enforcement, or those who are concerned.
Need for whistleblowing
The presence of honesty allows for complete dedication to the organization's mission and success.

By encouraging a whistle blowing culture, the organization promotes transparent structure and effective, clear communication. More importantly, whistle blowing can protect the organization's clients.

Whistleblowing also protects public interest if it is a public organisation.
Whistleblower protection in India
Whistle Blowers Protection Act, 2014 is an Act in the Parliament of India which provides a mechanism to investigate alleged corruption and misuse of power by public servants and also protect anyone who exposes alleged wrongdoing in government bodies, projects and offices.