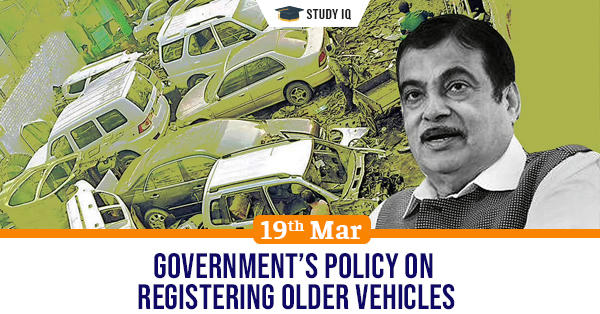 Government's policy on registering older vehicles
Date: 19 March 2021
Tags: Bills & Laws
Issue
The Ministry of Road Transport and Highways has notified a new draft that says that owners of vehicles which are 15 year older will have to pay hefty price for registration.
Background
The draft notification is government's effort to remove older fleet of vehicles that are more than 15 years old.
Details
Every non-commercial vehicle will get a registration certificate that will be valid for 15 years and after that, it gets re-registered for another five years.

The fee for re-registration of personal vehicles is expected to be increased around eight times for personal vehicles, and around 20 times for commercial vehicles.

The idea behind the move is to discourage owner to scrap their 15-year-old car and buy a new one rather than using it for another five years.

The first line of vehicles that will be scraped are the ones owned by government and its related entities such as PSUs.
Effects
The new variety of vehicles that will be bought will have better safety of passengers, better fuel efficiency and also cleaner emission.

Automated Fitness Centres will be set up across India where old vehicles have to be compulsorily tested if they want a re-registration.

Auto manufacturing industry will also receive boost as there will be a constant demand for new vehicles after the new guidelines come into effect.

The re-registration of old bikes will be charged of Rs 1,000 as opposed to the current Rs 300. For usual cars and jeeps, the charge will be Rs 5,000 from the present Rs 500.