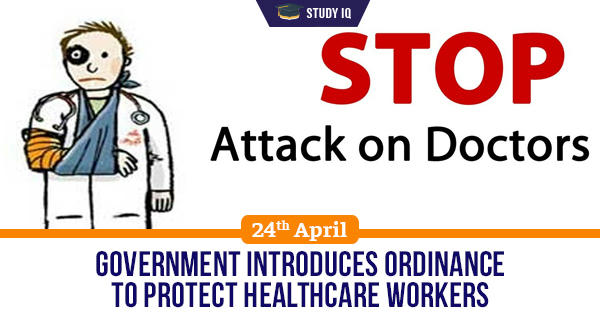 Government introduces ordinance to protect healthcare workers
Date: 24 April 2020
Tags: Bills & Laws
Issue
The Union Cabinet in its meeting held on 22nd April 2020 has approved promulgation of an Ordinance to amend the Epidemic Diseases Act, 1897 to protect healthcare service personnel and property including their living/working premises against violence during epidemics.
Background
During the current COVID-19 pandemic, there have been instances of the most critical service providers i.e. members of healthcare services being targeted and attacked by miscreants, thereby obstructing them from doing their duties.
Details
Violence as defined in the Ordinance will include harassment and physical injury and damage to property. Healthcare service personnel include public and clinical healthcare service providers such as doctors, nurses, paramedical workers and community health workers or any other person.

The penal provisions can be invoked in instances of damage to property including a clinical establishment, any facility identified for quarantine and isolation of patients, mobile medical units and any other property in which the healthcare service personnel have direct interest in relation to the epidemic.

The amendment makes acts of violence cognizable and non-bailable offences. Commission or abetment of such acts of violence shall be punished with imprisonment for a term of three months to five years, and with fine of Rs.50,000/- to Rs.2,00,000/-.

In case of causing grievous hurt, imprisonment shall be for a term six months to seven years and with fine of Rs.1,00,000/- to Rs.5,00,000/-. In addition, the offender shall also be liable to pay compensation to the victim and twice the fair market value for damage of property.

Offences shall be investigated by an officer of the rank of Inspector within a period of 30 days, and trial has to be completed in one year, unless extended by the court for reasons to be recorded in writing.
Ordinance
Ordinances are laws that are promulgated by the President of India (Indian Parliament) on the recommendation of the Union Cabinet, which will have the same effect as an Act of Parliament. They are mentioned in Article 123 of the constitution.

They can only be issued when Parliament is not in session (one or both houses). They enable the Indian government to take immediate legislative action. Ordinances cease to operate either if Parliament does not approve of them within six weeks of reassembly, or if disapproving resolutions are passed by both Houses.