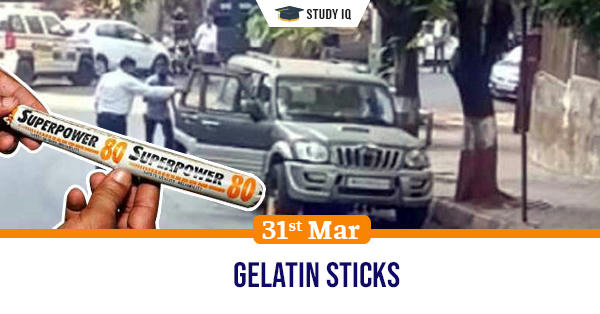 Gelatin sticks
Date: 31 March 2021
Tags: Bills & Laws
Issue
A major controversy erupted in Maharashtra when gelatin sticks were discovered in a vehicle parked outside Antilla.
Details
Gelatin is one of the cheapest explosive materials used by industries for mining and construction work. They have to be used with a detonator.
Control of gelatin
The manufacture is controlled by Petroleum and Explosives Safety Organization (PESO). Only licensed manufacturers can make gelatin sticks.

PESO has been the agency for controlling safety of hazardous substances such as explosives, compressed gas and petroleum. These substances also include gelatin sticks.

The PESO works under the Ministry of Commerce and Industry, and functions under the control of the Explosive Act 1884 and Explosives Rules 2008 etc.
Tracking gelatin
Every box containing gelatin sticks are bar coded and there is full information about its sale until the final point.

However, individual gelatin sticks are not bar coded. The government recently announced rules for bar coding individual sticks.

Licensed companies who buy gelatin in bulk may not completely use all the gelatin sticks they buy, and may sell it later in the black market.

In black market, customers such as small time contractors and private individuals may buy gelatin to dig wells or construction work.

Police are required to identify all explosive materials bought in the city used in construction work and ensure it is accounted for.

The buyer and the seller should maintain records of the explosives and government authorities need to check them regularly.