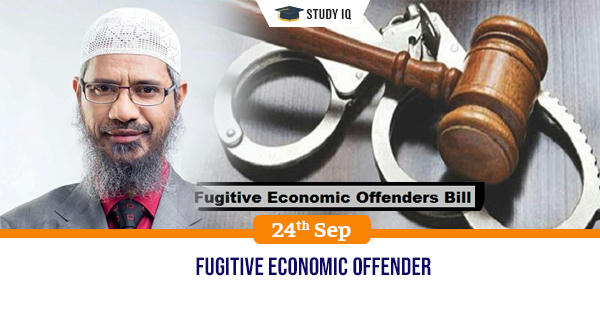 Fugitive Economic Offender
Date: 24 September 2019
Tags: Bills & Laws
Issue
The Enforcement Directorate (ED) has moved an application before the special Prevention of Money Laundering Act court to declare the controversial televangelist Zakir Naik a Fugitive Economic Offender under the new law.
Background
The move comes after the agency obtained a fresh non-bailable warrant against Mr. Naik last week. If Naik does not appear before a court in time, and is declared a fugitive economic offender, the agency will be able to confiscate his assets in India and abroad.
Fugitive Economic Offenders Act
The Fugitive Economic Offenders Act, 2018 is an Act of the Parliament of India that seeks to confiscate properties and assets of economic offenders that evade prosecution by remaining outside the jurisdiction of Indian courts.
Provisions
Economic offences with a value of more than Rs 100 crores, which are listed in the schedule of the Fugitive Economic Offenders Act, come under the purview of this law.

As per the Act, a 'Special Court' under the Prevention of Money Laundering Act, 2002 has to declare a person as a Fugitive Economic Offender for the law to come into effect.

The Bill allows authorities to provisionally attach properties of an accused, while the application is pending before the Special Court.

Upon declaration as an FEO, properties of a person may be confiscated and vested in the central government, free of encumbrances (rights and claims in the property).

Under the Bill, any court or tribunal may bar an FEO or an associated company from filing or defending civil claims before it.

The Bill does not require the authorities to obtain a search warrant or ensure the presence of witnesses before a search. This differs from other laws, such as the Code of Criminal Procedure (CrPC), 1973, which contain such safeguards.
Drawbacks
Barring persons from filing or defending civil claims may violate Article 21.

Use of sale proceeds from confiscated property not specified.

Provisions related to search may not contain safeguards.

Procedures under the Bill similar to existing laws.