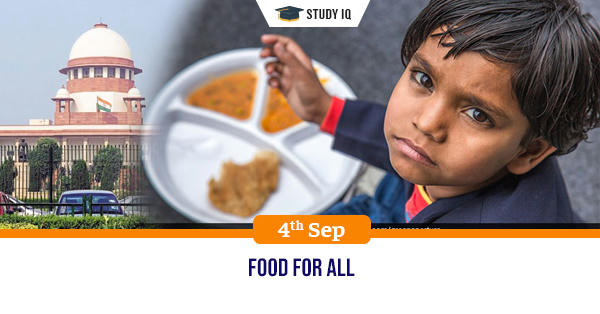 Food for all
Date: 04 September 2019
Tags: Bills & Laws
Issue
The Supreme Court has agreed to examine a plea that starvation deaths continue to eat into the right to life and dignity of social fabric and a "radical" new measure like community kitchens need to be set up across the country to feed the poor and the hungry.
Background
Despite phenomenal industrial and economic growth and while India produces sufficient food to feed its population, it is unable to provide access to food to a large number of people, especially women and children. The State of Food Security and Nutrition in the World, 2019' report stated that, 194.4 million people are undernourished in India. By this measure 14.5% of the population is undernourished in India.
Details
There are statistics available for malnutrition deaths in children and adults in the country, there is no official data available for death of persons owing to starvation.

Food and Agriculture Report, 2018 stated that India houses 195.9 million of the 821 million undernourished people in the world, accounting for approximately 24% of the world's hungry. Prevalence of undernourishment in India is 14.8%, higher than both the global and Asian average.

The report in 2017 by the National Health Survey (NHS) that approximately 19 crore people in the country were compelled to sleep on an empty stomach every night.

Moreover, approximately 4500 children die every day under the age of five years in our country resulting from hunger and malnutrition, amounting to over three lakh deaths every year owing to hunger, of children alone.

The petition has urged National Legal Services Authority to formulate a scheme to further the provisions of Article 51A of the Constitution of India in order to mitigate deaths resulting from hunger, malnutrition and starvation.