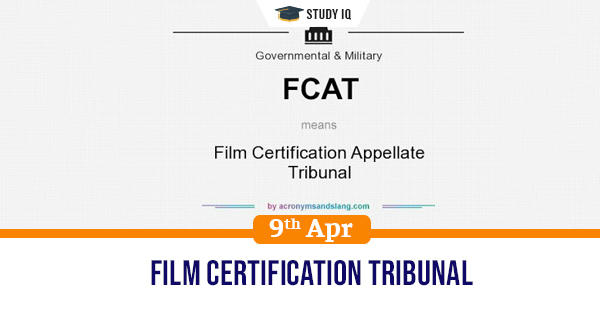 Film certification tribunal
Date: 09 April 2021
Tags: Bills & Laws
Issue
The government has abolished the Film Certificate Appellate Tribunal (FCAT) through an ordinance.
Background
The Tribunals Reforms (Rationalisation and Conditions of Service) Ordinance, 2021has replaced word "tribunal" with "High Court". Film makers will have to approach High court instead of tribunal.
Details
FCAT was a statutory body set up under Ministry of Information & Broadcasting in 1983, under Section 5D of the Cinematograph Act, 1952.

Its main purpose was to hear grievances by filmmakers who were unable to get their film certified by CBFC.

The tribunal consisted of a chairperson and four members including a secretary appointed by Government of India. The tribunal was located in Delhi.
Functions
The central Board of Film Certification categorises films into four categories. Sometimes it can deny certification citing scenes in the film.

The FCAT was the institution where filmmakers could approach if their films were not certified and more often than not got the decision reversed.
Way ahead
FCAT abolition means that in future film makers will have to approach High court against order of the CBFC.