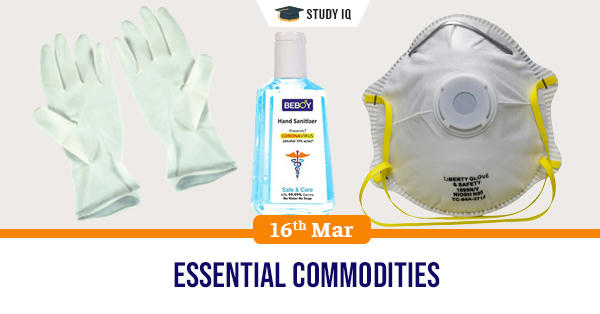 Essential commodities
Date: 16 March 2020
Tags: Bills & Laws
Issue
Following reports of shortage and irrational pricing of hand sanitisers and masks, the central government declared these items "essential commodities" until the end of June.
Background
The government's order has come in the wake of reports of a shortage of these commodities and a sudden and sharp spike in their prices, and the alleged hoarding of stocks by manufacturers.
Details
Government has notified an Order under the Essential Commodities Act to declare these items as Essential Commodities up to 30th June, 2020 by amending the Schedule of the Essential Commodities Act, 1955.

The Essential Commodities Act provides, "in the interest of the general public, for the control of the production, supply and distribution of, and trade and commerce, in certain commodities".

The law, which was passed in 1955 to essentially protect consumers from unreasonable and exploitative increases in prices of commodities in times of shortage, has been amended several times over the years, and made more stringent.

Under the Act, the government can also fix the maximum retail price (MRP) of any packaged product that it declares an "essential commodity".

The government has sweeping powers in this regard. The Act defines an "essential commodity" as simply "a commodity specified in the Schedule".

The Act empowers the central government to add new commodities to the list of Essential Commodities as and when the need arises, and to remove them from the list once the crisis is over or the situation improves.

Authorities act on the notification issued by the Centre, and implement the regulations. Anybody trading or dealing in the essential commodity, including wholesalers, retailers, manufacturers, and importers, is barred from stocking it beyond the specified quantity.

Violators are, therefore, termed as illegal hoarders or black-marketeers who can be prosecuted. Besides penalties, the violation may lead to imprisonment for a maximum period of seven years.

Agencies of state governments and Union Territory administrations are empowered to conduct raids to catch violators. The government can confiscate excess stock hoarded by retailers/traders/manufacturers, and either auction it or sell it through fair-price shops.