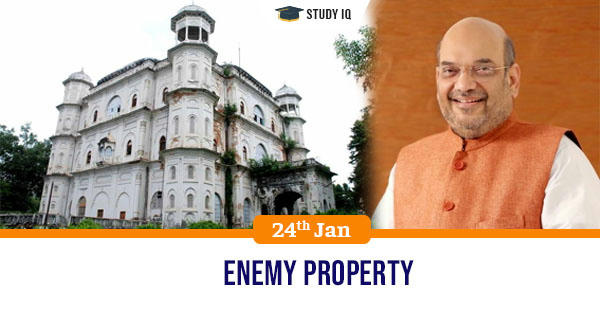 Enemy property
Date: 24 January 2020
Tags: Bills & Laws
Issue
A Group of Ministers (GoM) headed by Union Home Minister Amit Shah will monitor the disposal of over 9,400 enemy properties, which the government estimates is worth about Rs 1 lakh crore.
Background
A total 9,280 enemy properties had been left behind by Pakistani nationals, and 126 by Chinese nationals. The government estimates the value of these properties at approximately Rs 1 lakh crore.
Details
Two committees headed by senior officials will be set up for the disposal of immovable enemy properties vested in the Custodian of Enemy Property for India under The Enemy Property Act.

In the wake of the India-Pakistan wars of 1965 and 1971, there was migration of people from India to Pakistan. Under the Defence of India Rules framed under The Defence of India Act, 1962, the Government of India took over the properties and companies of those who took Pakistani nationality.

These "enemy properties" were vested by the central government in the Custodian of Enemy Property for India. The same was done for property left behind by those who went to China after the 1962 Sino-Indian war.

The Enemy Property Act, enacted in 1968, provided for the continuous vesting of enemy property in the Custodian of Enemy Property for India. The central government, through the Custodian, is in possession of enemy properties spread across many states in the country.
New amendments
In 2017, Parliament passed The Enemy Property (Amendment and Validation) Bill, 2016, which amended The Enemy Property Act, 1968, and The Public Premises (Eviction of Unauthorised Occupants) Act, 1971.

The amended law provided that enemy property shall continue to vest in the Custodian even if the enemy or enemy subject or enemy firm ceases to be an enemy due to death, extinction, winding up of business or change of nationality, or that the legal heir or successor is a citizen of India or a citizen of a country which is not an enemy.

The Custodian, with prior approval of the central government, may dispose of enemy properties vested in him in accordance with the provisions of the Act, and the government may issue directions to the Custodian for this purpose.
Importance of amendments
The thrust of the amendments was to guard against claims of succession or transfer of properties left by people who migrated to Pakistan and China after the wars.

The amendments denied legal heirs any right over enemy property. The main aim was to negate the effect of a court judgment in this regard.