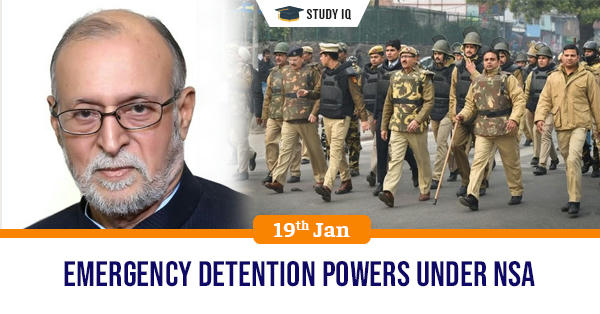 Emergency detention powers under NSA
Date: 19 January 2020
Tags: Bills & Laws
Issue
The Lieutenant Governor of Delhi, Anil Baijal, has issued an order giving the Police Commissioner the power to detain individuals under the tough National Security Act (NSA), 1980.
Background
Given the daily protests in the national capital against the Citizenship (Amendment) Act (CAA), the National Population Register (NPR), and the proposed National Register of Citizens (NRC), the order has triggered apprehensions.
Details
The order says that the central or state government may, in order to prevent any person from acting in any manner prejudicial to the security of the State or to the maintenance of Public order or to the maintenance of supplies and services essential to the community, make an order directing that such person be detained.

The period specified in an order made by the State Government under this sub-section shall not, in the first instance, exceed three months.
National Security Act, 1980
The NSA allows preventive detention of an individual for months if the authorities are convinced that the individual is a threat to national security and law and order.

The NSA was described as "an Act to provide for preventive detention in certain cases and for matters connected therewith". The Act repealed the National Security Ordinance, 1980.

The Act has been widely criticised as being "draconian" because of the powers of preventive detention that it gives to the government. The detention under the NSA can extend up to 12 months or even for longer if the government is able to produce more evidence against the detainee.