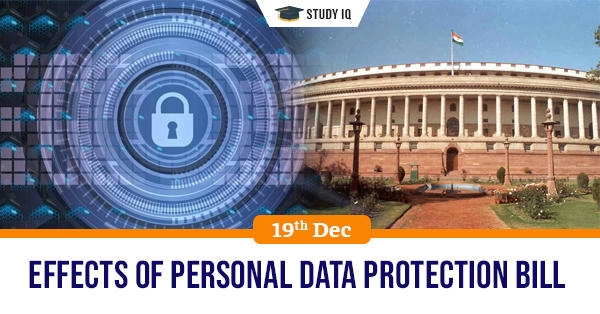 Effects of personal data protection bill
Date: 19 December 2019
Tags: Bills & Laws
Issue
The provisions of the Personal Data Protection (PDP) Bill, presented in Parliament and referred to a Joint Parliamentary Committee for examination, have received significant coverage due to concerns around state surveillance.
Background
The topic of data privacy became a public discussion since the Cambridge Analytica scandal broke out in March 2018. Since then all major countries have enacted regulations to either regulate use of data or gain access to data.
Details
India's PDP Bill lays down provisions for preventing misuse of personal data. It mandates where data can be stored and processed and also grants the government power to obtain non-personal data from companies.

The law, once passed, could have significant implications for foreign investment, international trade and national security.
Implications
Foreign Investment
A law like this can easily be seen as anti-competitive and unfriendly towards foreign investment.

Making it difficult and expensive for foreign comapnies to set up shop in India will discourage them from investing by increasing their cost of doing business through investment in local data centres, loss of economies of scale, manpower investments and concerns around oversight by regulators.

A positive outcome that may arise out of data localisation requirements is the need for companies to invest in better data centres and networking infrastructure. This may create new jobs and economic opportunities locally.
National Security
The PDP Bill is the government's concern that dependence on other countries for essential infrastructure can harm its national interest.

United States' hegemonic attitude and security concerns when dealing with China make it imperative that India protects its data sovereignty.

India needs to remain unfazed and continue to do what is best in its national interest.
Law Enforcement
Arguably, the biggest beneficiary could be Indian law enforcement agencies, who could get access to data for anti-terrorism purposes without having to go through international channels.

Currently, law enforcement agencies face a genuine challenge while trying to access personal data from companies that are subject to U.S. laws.