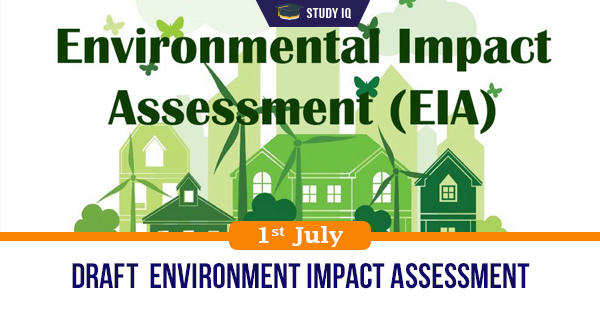 Draft Environment Impact Assessment
Date: 01 July 2020
Tags: Bills & Laws
Issue
The Delhi High Court extended the deadline for public feedback on the draft Environment Impact Assessment (EIA) Notification 2020. This was after the government had changed the deadline from August 10 to June 30.
Background
Activists claim that far from an improvement, the 2020 Environment Impact Assessment draft is a regressive departure from the 2006 version it seeks to replace.
Details
An EIA notification is issued under Section 3 of the Environment Protection Act, 1986, to impose restrictions on setting up new projects or expansion or modernisation of existing projects. The section stipulates that such measures must benefit the environment.

Under the Environment (Protection) Act, 1986, India notified its first EIA norms in 1994, setting in place a legal framework for regulating activities that access, utilise, and affect (pollute) natural resources.

Every development project has been required to go through the EIA process for obtaining prior environmental clearance ever since.

The 1994 EIA notification was replaced with a modified draft in 2006. Earlier this year, the government redrafted it again to incorporate the amendments and relevant court orders issued since 2006.

Reports on projects' potential (damaging) impact on the environment are frequently shoddy and consultant agencies that prepare those reports for a fee are rarely held accountable.

Lack of administrative capacity to ensure compliance often renders long lists of clearance conditions meaningless. Then there are periodic amendments exempting one category of industries or the other from scrutiny.
Areas of concern
The 2020 draft offers no remedy for the political and bureaucratic stronghold on the EIA process, and thereby on industries. Instead, it proposes to bolster the government's discretionary power while limiting public engagement in safeguarding the environment.

While projects concerning national defence and security are naturally considered strategic, the government gets to decide on the "strategic" tag for other projects. The 2020 draft says no information on such projects shall be placed in the public domain.

The new draft exempts a long list of projects from public consultation. For example, linear projects such as roads and pipelines in border areas will not require any public hearing.

The 'border area' is defined as "area falling within 100 kilometres aerial distance from the Line of Actual Control with bordering countries of India." That would cover much of the Northeast, the repository of the country's richest biodiversity.

All inland waterways projects and expansion/widening of national highways will be exempt from prior clearance. These include roads that cut through forests and dredging of major rivers.

The two most significant changes in the new draft are the provisions for post-facto project clearance and abandoning the public trust doctrine. Projects operating in violation of the Environment Act will now be able to apply for clearance.