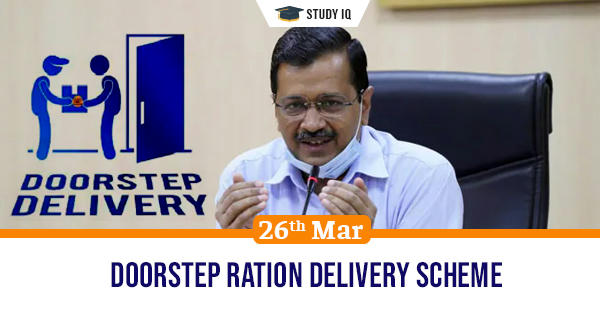 Doorstep ration delivery scheme
Date: 26 March 2021
Tags: Bills & Laws
Issue
Union ministry of Consumer Affairs, Food and Public Distribution has halted Delhi Government's Doorstep Ration scheme ahead of its launch.
Background
The state government had claimed large scale irregularities in Public Distribution process and said the proposed changes would end ration mafia.
Details
The aim of the scheme is to deliver food grains to ration card holders, who otherwise have to visit fair price shops to collect their share of ration.

The scheme was named as "Mukhya Mantri Ghar Ghar Ration Yojana" and was supposed to be launched on March 25.

Delhi State Civil Supplies Corporation Ltd (DSCSC) will be collecting wheat and rice from six godowns of the Food Corporation of India (FCI).

The wheat will be converted into atta while the rice will be cleaned from impurities and foreign substances and sent to the fair price shops.

The Delhi Consumer's Co-operative Wholesale Store Ltd (DCCWS), which is tasked with running fair price shops, will hire private agencies for the doorstep delivery of the foodgrains.
Working
The beneficiaries of the scheme will get notification in advance through SMS about the delivery. The packed ration will be provided after biometric verification is done through the e-POS method.

The beneficiaries can either collect their monthly quota of foodgrains at one go or in instalments.

The beneficiaries will have to pay an additional amount as charges for converting wheat into atta and also cleaning the rice apart from price of foodgrains.
The objection
The centre says that Delhi government cannot give subsidised foodgrains under the National Food Security Act (NFSA), 2013 to run a local scheme by giving another name.

The centre also says that charging additional amount as service charges goes against the principle of NFSA.
Future course
The state government has dropped the name "Mukhya Mantri Ghar Ghar Ration Yojana" because of the objections.

The GNCTD Bill, 2021 has given more powers to the Lt Governor on taking executive decisions. This means that the bill will need approval of the Lt Governor.
National Food Security Act, 2013
The NFSA gives legal right on food and nutritional security for every citizen of India. The foodgrains under the act are distributed through a network of ration shops.

The centre is in charge of procuring, storing and allocating foodgrains to the state. The state is in charge of identifying beneficiaries and distribution.