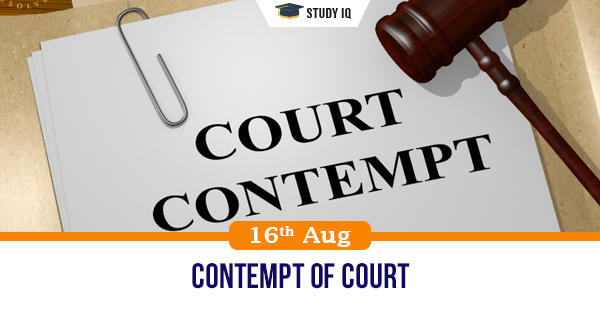 Contempt of court
Date: 16 August 2020
Tags: Bills & Laws
Issue
A three-judge Supreme Court Bench has found two tweets by lawyer Prashant Bhushan amounting to "serious contempt of court".
Background
The judgement revives the debate about the relevance of the contempt law, how judges in mature democracies deal with criticism of judges, and how India's courts have been responding to the contempt-versus-freedom-of-speech debate.
Details
The Supreme Court had tolerated such a strong indictment of itself, and then CJI Justice Dipak Mishra when a group of senior judges had spoken out. Now, it has chosen not to ignore tweets by a lawyer-activist.

It said magnanimity cannot be stretched to such an extent that may amount to weakness in dealing with a malicious, scurrilous, calculated attack on the very foundation of the institution of judiciary and thereby damaging the very foundation of the democracy.

The contempt power is needed to punish wilful disobedience to court orders (civil contempt), as well as interference in the administration of justice and overt threats to judges.

The reason why the concept of contempt exists is to insulate the institution from unfair criticism and prevent a fall in the judiciary's reputation in the public eye.
Contempt of court
Contempt of court has not been defined in the constitution. The issue is handled under The Contempt of Court Act, 1971.

Criminal contempt under Section 2(c) of the Contempt of Courts Act, 1971 means any publication which (i) scandalises or tends to scandalise, or lowers or tends to lower the authority of any court; or (ii) prejudices, or interferes or tends to interfere with, the due course of any judicial proceedings, or (iii) interferes or tends to interfere with, or obstructs or tends to obstruct, the administration of justice in any other manner.

The expression "scandalising the court" has not been defined. In Shiv Shankar (1988), the Supreme Court held that a criticism of the court that does not impair and hamper the administration of justice cannot be punished as contempt.