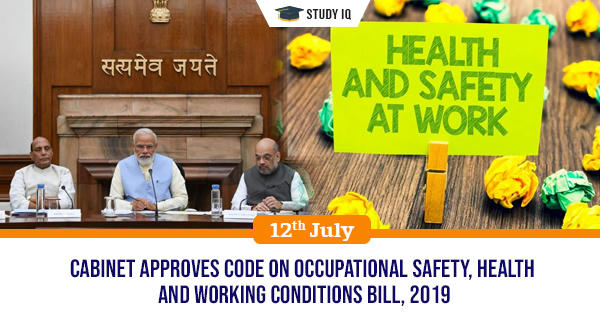 Cabinet approves Code on Occupational Safety, Health and Working Conditions Bill, 2019
Date: 12 July 2019
Tags: Bills & Laws
Union Cabinet chaired approved introduction of Code on Occupational Safety, Health and Working Conditions Bill, 2019 in the Parliament in a bid to push labour reforms. This is the second of the four codes that aim to merge 44 labour laws. Code on Minimum Wages was first to be approved by Cabinet.
This new Code has been drafted after amalgamation, simplification and rationalisation of relevant provisions of the 13 Central Labour Acts. After enactment of this Code, all these 13 existing labour laws being subsumed in Code and will be repealed.
13 Central Labour Acts are: (1) The Factories Act, 1948 (2) The Mines Act, 1952 (3)The Dock Workers (Safety, Health and Welfare) Act, 1986. (4) The Building and Other Construction Workers (Regulation of Employment and Conditions of Service) Act, 1996. (5) The Plantations Labour Act, 1951. (6) The Contract Labour (Regulation and Abolition) Act, 1970. (7) The Inter-State Migrant workmen (Regulation of Employment and Conditions of Service) Act, 1979. (8) The Working Journalist and other Newspaper Employees (Conditions of Service and Misc. Provision) Act, 1955. (9) The Working Journalist (Fixation of rates of wages) Act, 1958 (10) The Motor Transport Workers Act, 1961; (11) Sales Promotion Employees (Condition of Service) Act, 1976 (12) The Beedi and Cigar Workers (Conditions of Employment) Act, 1966 (13) The Cine Workers and Cinema Theatre Workers Act, 1981.
Benefits
It enhances ambit of provisions of safety, health, welfare and working conditions from existing about 9 major sectors to all establishments having 10 or more employees.

It provides for single licence regime for staffing firms, thus significantly improving their ease of doing business and also gives enhanced protection to employees by mandating certain norms.

It will cover over 40 crore workers in the informal sectors. It also envisages uniform threshold for welfare provisions such as creche, canteen, first aid and welfare officer.

It prescribes penalty for contravention of provisions leading to death or serious bodily injury to any person may be given to victim or legal heirs of the victim by the court.

It also allows women to work in night (i.e. beyond 7 pm and before 6 am) subject to safety, holidays, working hours or any condition as prescribed by appropriate government in respect of prescribed establishments and only after taking their consent for night work.

It prescribes one registration for an establishment (At present 6 different labour laws out of 13 provides for separate registration).

It provides for one licence one return in place of multiple licences and returns in existing 13 labour laws. One licence and one return would save time, resources and efforts of establishments.
Background
Union Government as part of labour law reforms has proposed series of four labour codes to rationalize 44 labor laws (with certain amendments). The four labour codes are Code on Wages, Code on Social Security, Code on Industrial Relations and Code on occupational safety, health and working conditions. These new codes are aimed at reducing uncertainty and lack of clarity in doing business in India. This will help to improve India's ranking in World Bank's Ease of Doing Business Index.