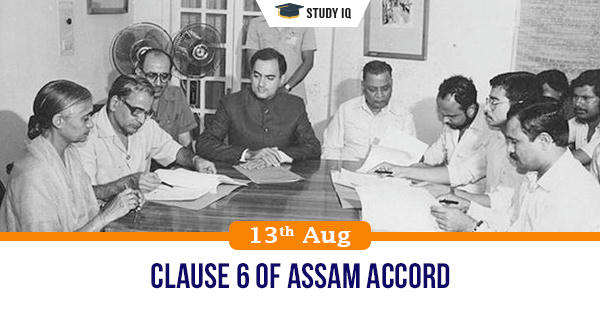 Clause 6 of Assam Accord
Date: 13 August 2020
Tags: Bills & Laws
Issue
A government-appointed committee had submitted its recommendations for implementation of Clause 6 of the Assam Accord, a key provision that has been contentious for decades.
Background
With six months having passed, a few members of the panel — Arunachal Pradesh Advocate General Nilay Dutta and three members of All Assam Students' Union (AASU)— released the report independently.
Details
Clause 6 reads: "Constitutional, legislative and administrative safeguards, as may be appropriate, shall be provided to protect, preserve and promote the cultural, social, linguistic identity and heritage of the Assamese people".

For recognition as citizens, the Accord sets March 24, 1971, as the cut-off. Immigrants up to the cut-off date would get all rights as Indian citizens.

Therefore, Clause 6 was inserted to safeguard the socio-political rights and culture of the "indigenous people of Assam".

Several committees have been set up over the years to make recommendations on implementation of Clause 6. None of them made headway on the provision's contentious issues

Its brief was to define the "Assamese people" and suggest measures for the safeguard of their rights. The definition of "Assamese people" has been a subject of discussion for decades.

During the Assam agitation, the demand was for detection and deportation of migrants who had illegally entered Assam after 1951. The Assam Accord, however, set the cut-off at March 24, 1971. The National Register of Citizens (NRC) was updated based on this cut-off.

Clause 6 is meant to give the Assamese people certain safeguards, which would not be available to migrants between 1951 and 1971.

If the recommendation is accepted, those who migrated between 1951 and 1971 would be Indian citizens under the Assam Accord and NRC, but they would not be eligible for safeguards meant for "Assamese people".

Among various recommendations, key are reservation of seats in Parliament, Assembly and local bodies; reservation in jobs; and land rights.