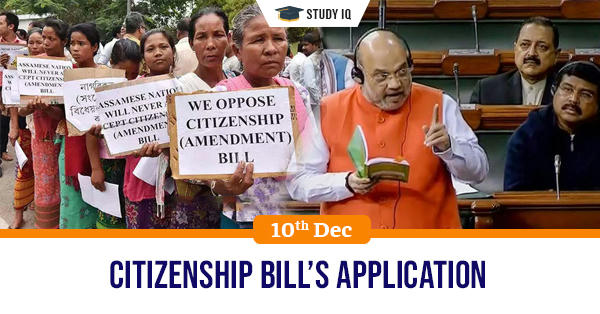 Citizenship Bill's application
Date: 10 December 2019
Tags: Bills & Laws
Issue
The government has introduced the Citizenship (Amendment) Bill (CAB), 2019, which proposes to make it easier for certain categories of migrants to become eligible for Indian citizenship. In the revised version of CAB, the Centre has exempted certain areas in the Northeast, where the Bill has been facing protests.
Background
The Citizenship Bill will provide permanent citizenship to persecuted citizens of Pakistan, Bangladesh and Afghanistan belonging to Hindu, Christianity, Buddhism, Jainism,Sikkhism and Parsi religions. The bill is facing protests from states of the North-east fearing influx of refugees.
Details
The bill exempts the whole of Arunachal Pradesh, Nagaland and Mizoram, almost the whole of Meghalaya, and parts of Assam and Tripura, but keeps all of Manipur under its ambit.

The Citizenship (Amendment) Bill (CAB) states that this section shall apply to tribal areas of Assam, Meghalaya, Mizoram or Tripura as included in the Sixth Schedule to the Constitution and the area covered under 'The Inter Line' notified under the Bengal Eastern Frontier Regulation, 1873.

In ILP states, there are already a large number of migrants from other Indian states. They live and work there equipped with long-term ILPs, and renew these.

The question is whether a person who becomes an Indian citizen through CAB can, or cannot, apply for an ILP and work in such states, just like any other Indian citizen.

Multiple restrictions and regulations exist on entry and stay of outsiders in areas under the Inner Line system or the Sixth Schedule. These existing rules are expected to put the same restrictions on someone who has acquired citizenship through CAB.

The exemptions appears to imply that no immigrant non-citizen living in these areas can be regularised as an Indian citizen through CAB.
Sixth Schedule
The Sixth Schedule of the Constitution, described in Articles 244(2) and 275(1), relates to special provisions in administration of Assam, Meghalaya, Tripura and Mizoram and provides special powers for Autonomous District Councils (ADCs) in these states.

ADCs have powers to enact laws in areas under their jurisdiction on a variety of subjects, with the objective of ensuring development of tribal areas and boosting self-governance by tribal communities.