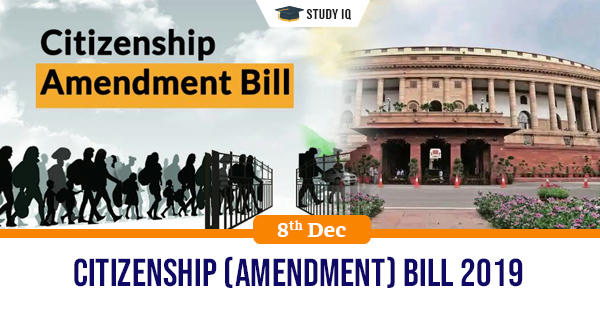 Citizenship (Amendment) Bill 2019
Date: 08 December 2019
Tags: Bills & Laws
Issue
The contentious Citizenship (Amendment) Bill, (CAB), which generated widespread protests in the north-eastern states, will be tabled in the Lok Sabha for consideration and passage.
Background
Members of Hindu, Sikh, Buddhist, Jain, Parsi and Christian communities, who come from Afghanistan, Bangladesh or Pakistan facing persecution there, will not be treated as illegal immigrants but given Indian citizenship when the proposed amendments to the six-decade-old Citizenship Act come into effect.
Details
The Citizenship (Amendment) Bill-2019 will provide Indian citizenship to the six minority communities from Bangladesh, Afghanistan, and Pakistan.
These six communities are - Hindu, Buddhist, Jain, Parsi, Christian and Sikhs.
• At present, it is mandatory for a person to stay here for at least 11 years to get citizenship of India.
• The bill will reduce this period to six years. It will enable people from these communities to get Indian citizenship in six years.
• It will make some amendments to the Citizenship Act 1955 to provide legal aid for citizenship.
Existing provisions
According to the Citizenship Act, 1955, illegal migrants cannot get citizenship of India. The people, who have entered India without valid travel documents like passports and visas or have come to India with valid documents but stay here longer than the period mentioned therein, are considered as illegal migrants under this law.

According to the Citizenship Act, 1955, illegal migrants can either be kept in jail or sent back to their country under the Foreigners Act, 1946 and the Passports (Entry into India) Act, 1920.

In 2015 and 2016, the central government has made some amendments in the laws of 1920 and 1946. It exempted Hindus, Sikhs, Buddhists, Jains, Parsis and Christians from Afghanistan, Bangladesh and Pakistan to stay in India.
Reasons for opposition
The biggest concern of the opposition parties is that it specifically targeted the Muslim community. Opposition parties said that this is a violation of Article 14 of the Constitution, which speaks of the right to equality.

The opposition to the Bill stems from the fear that a flood of Bengali-speaking immigrants, who will legitimately settle down in Assam and rest of North East, can fast alter the existing cultural ecosystem, blurring indigenous identities.