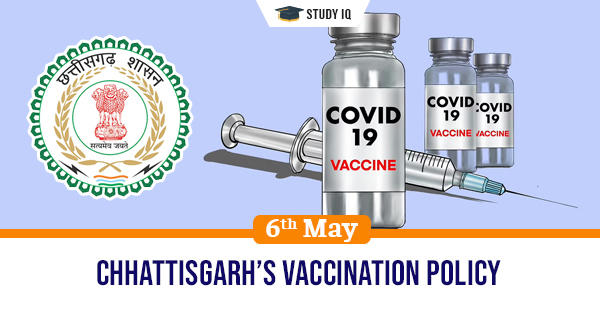 Chhattisgarh's vaccination policy
Date: 06 May 2021
Tags: Bills & Laws
Issue
A series of petitions have been filed in the Chhattisgarh High Court against the vaccination policy of the state government.
Background
The state government has decided to vaccinate people based on socio-economic status, which has been criticised.
Details
The state government has said that vaccination process of citizens within the age group of 18-44 will be held in three stages due to shortage of vaccine.

In the first stage, Antyodaya card holders will be vaccinated followed by BPL card holders. In the last stage APL card holders will be eligible for the jab.

There is also another decision to open only two vaccination centres per block so as to implement Covid appropriate behaviour.
Reason for opposition
Petitioners have claimed that by introducing the socio-economic conditions, the state government has violated the idea of law of equality and the equal opportunity before law.
Government's claim
The state government has claimed that central government has not provided them enough vaccine that has forced them to invent the sub-classification.

The state also says that the Antyodaya group has been the main carrier of virus due to their lack of education, information about symptoms or guidelines. By vaccinating them, threat can be reduced.
Antyodaya card holders
Individuals with annual family income less than Rs 15,000, widows, senior citizens without support and unemployed people fall in this category.

They are given a yellow ration card to indicate that they fall into the poorest of the poor category.