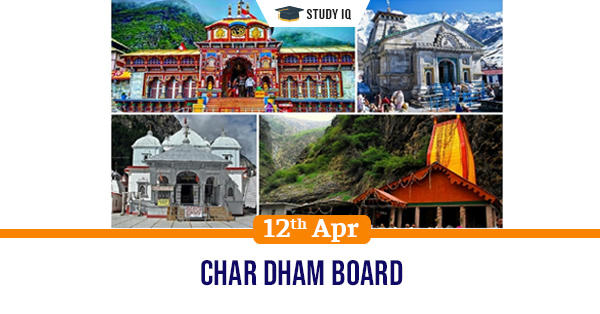 Char Dham Board
Date: 12 April 2021
Tags: Bills & Laws
Issue
Uttarakhand government had tabled the Uttarakhand Char Dham Shrine Management Bill, 2019 in the state assembly in December 2019.
Background
The bill aims to bring Char Dham of Badrinath, Kedarnath, Gangotri and Yamunotri and 49 other temples under a state board.
Details
The Char Dham Devasthanam Board was constituted with Chief Minister as the chairman and minister for religious affairs as the vice-chairman.

The two MLAs of Gangotri and Yamunotri are board members along with the Chief Secretary, who is an IAS officer.

The shrine board is concerned with management of the temples to form policies, make decisions to implement this Act, formulation budget and to sanction expenditure.

It can also take decisions regarding safe custody, managing funds, valuable securities, temple properties and jewellery.
Aim of the bill
This Bill will aim to provide a milestone for the rejuvenation of Shri Badrinath, Shri Kedarnath, Gangotri, Yamunotri and other famous temples under its purview.
Previous arrangement
For managing Badrinath and Kedarnath, the Shri Badrinath-Shri Kedarnath Act, 1939 was formed. A government appointed person was to be the chairperson.

The government did not get share from donations made by the devotees as management of the shrines was in the control of local trusts.
Public opposition
The protesting saints and other religious groups had demanded that the governments should not control management of temples, its properties and religious systems.

The large number of pandas, seers and other stakeholder had alleged that government would use money obtained from temples in functions other than development of temples.

The new CM Tirath Sigh Rawat has recently removed 51 temples from the control of the board including Badrinath and Kedarnath.