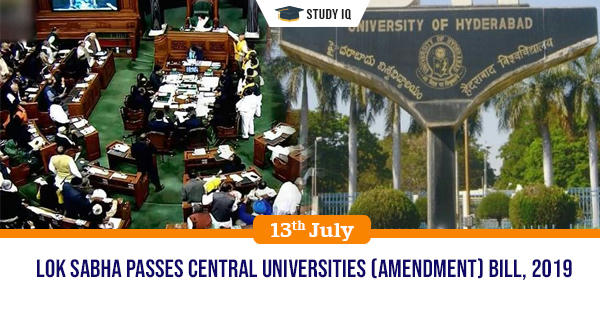 Lok Sabha passes Central Universities (Amendment) Bill, 2019
Date: 13 July 2019
Tags: Bills & Laws
Lok Sabha passed Central Universities (Amendment) Bill, 2019 by voice vote. The bill provides for the establishment of two Central Universities in Andhra Pradesh- the Central University and the Central Tribal University in Andhra Pradesh. It amends Central Universities Act, 2009.
Key Facts
Funding: These universities will be set up with cost of Rs.1700 crore in four years in Andhra Pradesh. In the first phase, Rs.450 crore will be provided for Central University and Rs.420 crore for Central Tribal University.
Benefits: The establishment of these two universities in Andhra Pradesh will increase access and quality of higher education in the state. It will also facilitate and promote avenues of higher education and research facilities for the people of the State.
Central Tribal University
It will be set up in Relli village in Vizianagaram District of Andhra Pradesh. It will be established under 13th Schedule to Andhra Pradesh Reorganisation Act, 2014 (No. 6 of 2014). It will promote advance knowledge by providing instructional and research facilities in tribal art, culture and customs and advancement in technology to the tribal population of India. Apart from being focused on tribal education, it will also carry out all educational and other activities like any other Central University.