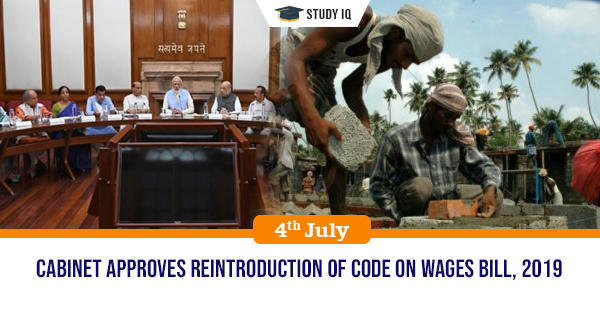 Cabinet approves reintroduction of Code on Wages Bill, 2019
Date: 04 July 2019
Tags: Bills & Laws
The Union Cabinet has approved re-introduction of the Code on Wages Bill, 2019 in the Parliament. It aims to merge four central laws — Payment of Wages Act, 1936, Minimum Wages Act, 1948, Payment of Bonus Act, 1965 and Equal Remuneration Act, 1976.
Need for reintroduction
The Code of Wages Bill is the first in the series of four labour codes proposed by Union Government as part of labour law reforms to rationalize 44 labor laws (with certain amendments). The four labour codes are Code on Wages, Code on Social Security, Code on Industrial Relations and Code on occupational safety, health and working conditions. The new codes are aimed at reducing uncertainty and the lack of clarity in doing business in India. This will help to improve India's ranking in World Bank's Ease of Doing Business Index.
The Wage Code Bill earlier was introduced during 16th Lok Sabha and Standing Committee had also given its report. However, it could not be passed, and hence, it had lapsed after dissolution of 16th Lok Sabha. This necessitated fresh approval by the Cabinet before re-introduction in the Lok Sabha.
Code on Wages Bill, 2019
It provides for setting up of national minimum wage by Central Government. States cannot set minimum wages lower than e national minimum wage.

Further, central government may set separate national minimum wages for different states or regions of the country. Minimum wages must be revised by central or state governments at interval of 5 years.

It provides that Central Government will fix minimum wages for certain sectors, including railways and mines, while states would be free to set minimum wages for other category of employments. It provides that overtime rate will be at least twice the normal rate of wages of the employee.

It makes minimum wages applicable for both formal and informal sectors, enable transfer of wages through the direct benefit transfer mechanism and bolster system for redressing grievances of labourers.

It will provide for all essential elements relating to wages, equal remuneration, and bonus. Its provisions related to wages will be applicable to all employments covering both organised and unorganised sectors.

It also proposes payment of wages by cheque or through digital or electronic mode or by crediting it in bank account of the employee. However, appropriate government may specify industrial or other establishment, where wages are to be paid only by cheque or through digital or electronic mode or by crediting the bank account of the employee.