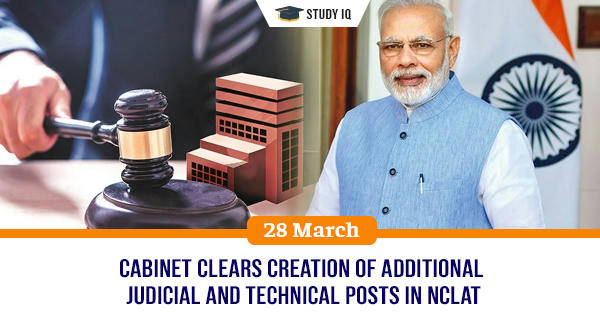 Cabinet clears creation of additional judicial and technical posts in NCLAT
Date: 28 March 2019
Tags: Bills & Laws
Union Cabinet chaired has approved creation of additional posts of three Judicial Members and three Technical Members in National Company Law Appellate Tribunal (NCLAT). These additional will ensure to meet mandate provided to NCLAT by Finance Act, 2017, Companies Act, Insolvency and Bankruptcy Code, 2016 and time frame provided for disposal of cases. These posts will be created in Level 17.
National Company Law Appellate Tribunal (NCLAT)
It is a quasi-judicial statutory body in India that adjudicates issues relating to Indian companies. It consists of chairperson and maximum of eleven judicial and technical members.

It was constituted under Section 410 of Companies Act, 2013. It aims to provide simpler, speedier and more accessible dispute resolution mechanism.

It hears appeals against rulings of National Company Law Tribunal (NCLT) under Section 61 of IBC, 2016.

It is also appellate tribunal for hearing appeals against orders passed by Insolvency and Bankruptcy Board of India (IBBI) under Section 202 and Section 211 of IBC.

It is also appellate tribunal to hear and dispose of appeals against any direction issued or decision made or order passed by Competition Commission of India.

The decisions and rulings of NCLAT may be appealed to Supreme Court of India on a point of law.